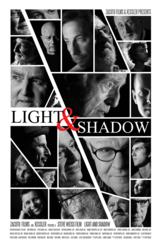 "Wonderful and moving." -Rodney Charters, ASC
Chicago, IL (PRWEB) June 26, 2013
Zacuto is proud to present Steve Weiss' latest film, Light & Shadow. The film is an intimate conversation with legendary cinematographers about their perspective on filmmaking and what cinematography means to them.
Weiss shot Light & Shadow throughout last year's Zacuto documentary Revenge of the Great Camera Shootout 2012. Weiss captures the essence of what it means to be a cinematographer with questions such as "What is creativity?", "What shapes your vision?" and "How do you look at life?" Cinematographers featured in Light & Shadow include Bruce Logan ASC, Haskell Wexler ASC, Janusz Kaminski, and Stephen Goldblatt ASC/BSC plus many more.
The purpose of the film is two-fold; offer an unique, inspirational view on cinematography and address the age-old question of whether talent is something you're born with or a developed skill.
"This has been a passion project for me, I learned so much by talking to all of these incredible cinematographers, made many lasting friendships and it was a wealth of knowledge," says Weiss.
His past passion projects include Film Fellas, Critics, BTS, The Great Camera Shootout 2010 & 2011, and Revenge of the Great Camera Shootout; all excellent learning tools for aspiring filmmakers.
Some of the film industry's best cinematographers agree that Light & Shadow is truly special:
"BEAUTIFUL and passionate. Your love of the art shines through."
-Steven Fierberg, ASC.
"It's a beautiful film, deep and meaningful and wonderfully done. Engaging and visually strong. What a wonderful approach. What a wonderful statement. It really, as much as any single film can, says what we are and what we do, and says it in the most comprehensive and universal manner. All the different perspectives summed up into a great truth that can't be expressed more directly or succinctly."
-Bob Primes, ASC
"LOVED LOVED LOVED IT, very MOVING and full of passion BRAVO!"
-Nancy Schreiber, ASC
"Wonderful and moving."
-Rodney Charters, ASC
Light & Shadow made its online debut on June 14th, 2013 and is available to watch at zacuto.com. Watch for yourself and discover the art of light and shadow.
ZACUTO, located in Chicago, Illinois, is known for their "Made in the USA" brand of high quality, originally designed camera accessories. Zacuto Films produces original programming with EMMY's won in 2010, 2011, and 2012 (Midwest region) or follow @Zacuto on Twitter. 888-294-3456