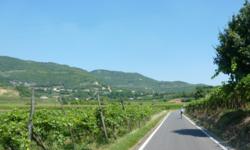 A remarkable week of new sights, new foods and new friends. Perfectly planned and executed, not a detail left to chance. I can't imagine a better vacation.
Newburyport, MA (PRWEB) June 25, 2013
Italiaoutdoors Food and Wine, a two person guide team leading highly personalized small group cycling tours in Italy, is launching two new itineraries for the fall of 2013. These new bike and wine tours are intimate experiences, limited to eight guests, and go beyond the standard bike tour structure to offer customized routes, adaptable days, insider access to small producers, and immersion into the local culture as the group spends the week cycling "as a local."
Bike the Wine Roads of Umbria, scheduled for September 29 - October 5, 2013, will feature cycling through the lush olive orchards and fertile vineyards of the "Green Heart of Italy" that produce world-famous oils and wines. Lovely hilltop towns such as Assisi and Bevegna, rich in history, provide plenty of opportunities to stop and explore ancient Roman ruins, castles, and cathedrals. Daily private wine tastings introduce the wonderful wines produced here, from the crisp Orvieto to the robust Sagrantino and Torgiano Rosso.
Bike the Wine Roads of Tuscany, scheduled for October 6 - 12, 2013, visits the backroads of Italy's most popular region. After cycling, guests can immerse themselves in medieval and Renaissance history, or enjoy a snack of bruschetta and a taste of Chianti with the locals. Destinations here include Montepulciano, Montelcino, Pienza and Siena. Daily private wine tastings will explore favorites such as Chianti, as well as lesser known wines such as Brunello di Montalcino, Vino Nobile di Montepulciano, Carmignano, and Vin Santo.
Both tours are priced at $3495 per person, double occupancy. To welcome single travelers to these tours, Italiaoutdoors Food and Wine is offering a 50% discount on the single supplement, a $300 value.
Co-owners McClure and Bechtel joined forces in 2010 to offer active tours in Italy with an unprecedented level of customization and personal attention. Italiaoutdoors Food and Wine offers only a few select tours that are personally led by the owners, to provide an exceptional level of regional knowledge and an unforgettable authentic experience. The small group size, with at most eight participants, together with personal oversight enables the duo to adapt each day to create a perfect vacation.
Prior to the tour itself, McClure and Bechtel work with each and every guest to learn their riding style and expectations. The routes are then designed to provide each guest with appropriate terrain, allowing them to experience Italy as the locals do, on a bike. Beginning cyclists are offered shorter routes and personalized coaching to insure they are safe and relaxed. Experienced cyclists can enjoy more miles, challenging climbs, or exhilarating descents, with a GPS to allow them to explore at their preferred pace. Full vehicle support is provided, but the goal of all Italiaoutdoors Food and Wine trips is to rely on it as little as possible, as the tour participants have come to cycle. Travelers interested in learning more about Italiaoutdoors Food and Wine tours can visit http://www.italiaoutdoorsfoodandwine.com, or phone +1-978-270-5774.