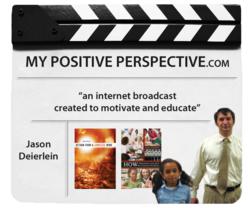 No matter how bad you have it, there is always someone in a worse situation than yours.
Charleston, SC (PRWEB) June 26, 2013
My Positive Perspective aired an episode commemorating the car accident that founder Jason Deierlein was involved in. During the episode that Deierlein self hosted, on June 21, 1995, Deierlein said, "I went from state champion swimmer to a comatose teenager who felt like he was on his death bed." During the episode, Deierlein continues to mention the importance of staying positive despite hardships one faces in life.
The importance of staying positive through trying times is so important according to Deierlein because, "No matter how bad you perceive your situation to be, there is always someone else in a worse situation than yours." For those who do not believe that and can not find any way to shake their negativity, Deierlein suggests, "Do something to help people who are less fortunate than you. There are people all over the world that need help."
During the episode, Deierlein does acknowledge that there are people who are entirely negative and those people are almost impossible to help. For these people, Deierlein says, "People who have an opportunity to help others, but do not because they are too negative about their own trying situation may not always receive help from others." Deierlein concludes, "Hard work is necessary to produce anything worthwhile in life. Sadly not all of us have been exposed to this lesson, but it is true."
My Positive Perspective is a media outlet believing that improvement in our community wil l be best achieved by focusing on the good things happening in our world today. Having survived a near fatal car accident as a youth, a shift of perception forced one to have a mentality of always concentrating on the brighter sides of things. This was true, and in my book, Return From a Comatose Mind, this belief was put to the test. Appreciation for life was the biggest thing one took away from my brush with death, and it is because of that gives me such a huge desire to be helpful to many. My Positive Perspective is a way of overcoming challenges.