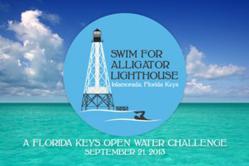 I applaud Lighthouse Larry...
Islamorada, FL (PRWEB) June 28, 2013
From the creators of Swim Miami, comes the 1st Annual Swim For Alligator Lighthouse. The Friends of the Pool, the Fighting Manatees Swim Club, and Jonathan Strauss will host the First Annual Islamorada Swim for Alligator Lighthouse 8 mile Open Water Challenge.
Spearheaded by renowned Artist Lighthouse Larry. In 2012, Larry decided to swim, in his native town of Islamorada, to Alligator Lighthouse and back all alone, self supported, his friends thought he was crazy. He made it successfully, and now it's everyone's turn to try. Try it alone or as part of a team. "I applaud Lighthouse Larry for his efforts in trying to save and preserve the lighthouses of the Florida Keys, I am so proud to be a part of this life changing event," said Race Director Jonathan Strauss. The event will be held at The Moorings Hotel and Resort at 123 Beach Rd, Islamorada, FL 33036. The weekend kicks off with a Thursday Night Islamorada Art Walk on September 19. On Friday morning, September 20, join Olympic Gold Medallists Jon Olsen and Gary Hall Sr. for a warmup session, followed by a check in and a Full Moon party by the bay at Morada Bay Island Restaurant. The Open Water Swim Challenge begins for all competitors at 8:00AM on Saturday September 21 on the Moorings Beach Front, followed by a Sunset award ceremony at 6:00pm. Top 3 Male and Top 3 Female will receive awards for Overall placement. Finisher medals will be provided to those that accomplish the challenge.
All swimmers, parents, triathletes, and weekend warriors are welcome to participate. Any athlete with a disability will be accommodated as well. It is the swimmer's or coach's responsibility to notify the Meet Director and Meet Referee of any accommodations required. The race will consist of individuals, 2 man relays and 4 man relays. Relays are all open and crossed gendered. Individual male & female 16 Under; 17-18; 19-24; 25-29; 30-34; 35-39; 40-44; 45-49; 50-54; 55-59; 60 and Over. This event will employ an in-water start and beach finish. There will even be a non competitive division that will allow for Masks, Snorkels, Fins, and Wetsuits.
Registration and Check In will be available at Founders Park Swimming Pool from 4PM – 8PM on Friday September 20, 2013
Individual – $95.00
2 Man Team – $75.00 per person
4 Man Team – $50.00 Per person – 3 heats every 2 minutes
For all event details and Registration please visit: Swim For Alligator Lighthouse.