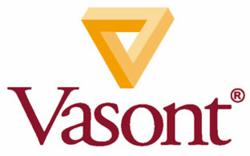 Emigsville, PA (PRWEB) June 25, 2013
Vasont Systems, a top component content management system (CCMS) software provider, verified that their Vasont Universal Integrator (VUI) extension supports Syncro Soft's latest software, oXygen® XML Editor 15.0. Using the VUI, the Vasont CCMS makes it easy for its users to create and edit XML content in oXygen while utilizing content from the Vasont database.
Released earlier this month, oXygen XML Editor 15.0 enhances the productivity of its developers and content authors by improving its reviewing support with features that allow users to easily find edits across all files and publish to mobile devices. Using the Vasont CMS software extension, or VUI, users can leverage the CMS's content reuse and version capabilities to maintain control of their content while working in oXygen. The integration between the Vasont CMS and oXygen 15.0 create an XML publishing system for multichannel delivery.
"Version 15, the latest release of oXygen XML Editor is even more complementary with Vasont's CMS products" says Sarah Draper, Director of Channel Sales & Marketing at Syncro Soft, the makers of oXygen XML Editor. "Combined, we have created a powerful solution for enterprise users which not only makes the editorial process much smoother but it enables organizations to manage their documentation and information efficiently and effectively thereby making cost savings in editorial and content development".
For more information about oXygen 15.0, visit the oXygen website.
About Vasont Systems
Headquartered in Pennsylvania, Vasont Systems provides component content management software and XML data services to Fortune 1,000 companies and global organizations from a variety of industries, including manufacturing, technology, publishing, financial, and healthcare. Since 1992, Vasont Systems has helped companies organize their critical business assets, manage productivity, and disseminate information in many languages to multiple media channels while reducing their costs by an average of 63% and shortening overall cycle times by 75% on average. Vasont Systems has been named multiple times to the EContent 100 list of "best and brightest digital content companies." For more information, visit http://www.vasont.com.