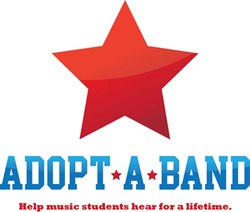 The Adopt-a-Band program educates young musicians about the importance of using hearing protection during practice and performance.
Chicago, IL (PRWEB) June 27, 2013
Etymotic Research, an innovator in hearing wellness solutions, today announced the latest top-ranked musical ensembles to receive Etymotic hearing protection products in the company's Adopt-a-Band program. The Adopt-a-Band program educates young musicians about the importance of using hearing protection during practice and performance.
Adopt-a-Band offers schools, parents, educators, boosters, audiologists, and other interested parties an opportunity to provide musicians with ETY-Plugs and their directors with MusicPRO electronic earplugs. "Etymotic's Adopt-a-Band program lets those committed to hearing health become proactive, and protect young ears from the ravages of overexposure to loud sounds from their own and others' instruments. Especially for those who wish someone had stood up when they were young and cared enough to provide hearing protection, Adopt-a-Band offers a chance to make an immediate and important difference in the lives of music makers," said Etymotic's Carolynn Travis.
Audiologists can reach out to their communities to educate young musicians, music teachers and parents about the dangers of overexposure to loud sound. Parents can adopt their local music classes to teach student musicians about hearing wellness at an early age and make them aware of cost-effective solutions available to them. Musical instrument dealers can adopt schools as part of rental packages.
Over 300 musical ensembles have already joined this national program. With tiers starting at $60, sponsored bands receive educational materials, posters, Etymotic's Hear for a Lifetime® DVD about hearing and how the ear works, affordable, high-fidelity Etymotic earplugs and an Etymotic noise dosimeter to measure exposure levels over time. For over 20 years, Etymotic's earplugs have been the choice of musicians and music lovers around the world.
"The Etymotic Adopt-A-Band program has become a staple of the Naperville Central High School Band program. Our students enjoy wearing ETYPlugs for all areas of music including: concert, marching, jazz and percussion ensembles. The NCHS Band family appreciates the dedication of Etymotic in hearing preservation and we are proud to be a member of the Etymotic Adopt-a-Band family!" said Naperville High's Associate Band Director, Brandon Estes.
Exposure to excessive sound levels from drumlines, pipe bands, marching bands, orchestras, and music from a player's own instrument or nearby instruments can cause permanent hearing loss depending on the intensity and duration of the sound. ETY-Plugs and MusicPRO electronic earplugs reduce most noise to safe levels while preserving the richness of music and the clarity of speech during instruction. Both are available for purchase at http://www.etymotic.com, http://www.amazon.com and other consumer electronics and musical instrument retailers.
"Long-term exposure to loud noise has a cumulative impact on hearing over our lifetime. For musicians, this problem is acute – marching band sound levels can peak at 120 decibels, where safe exposure time is about seven seconds," said Dr. Gail Gudmundsen, managing director of audiology at Etymotic. "The good news is that hearing loss from music is preventable."
About Etymotic
Etymotic Research, celebrating its 30th year of innovation in hearing wellness solutions, is one of the most respected thought leaders in high-fidelity audio and hearing conservation. For more information about Etymotic, its hearing wellness mission and products, please visit http://www.etymotic.com/adoptaband. For a complete list of authorized Etymotic dealers, please visit: http://www.etymotic.com/dealerlocator