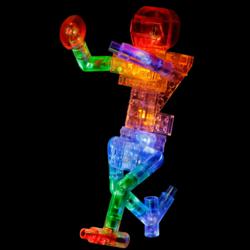 Sarasota, FL (PRWEB) June 25, 2013
The popular toy company, known for unique toy sets where each piece feeds the next piece low voltage current, is continuing their efforts to go green in their products, offices and warehouses.
Laser Pegs® toys have already been modified to save electricity with high-quality LED lights that draw very little current. Certain products are battery-operated avoiding electricity use altogether. The company also advises customers to purchase AC adaptors allowing for maximum brightness and manages the low voltage efficiently.
The company continues their efforts by joining forces with Green Secure Energy Solutions in order to make Laser Pegs' warehouses and offices entirely GREEN compliant with LED lighting. This step will reduce electricity use by more than half and will extend the lifetime of valuable equipment.
Energy efficiency is one of the fastest and most affordable ways to increase the amount of energy that is available for use, without having to deepen your wallet. In fact, according to the Department of Energy's Energy Efficiency and Renewable Energy program, Americans saved $7 billion on energy bills in 2004 simply by utilizing energy saving measures.
Laser Pegs® is excited to do their part for the environment while still providing top-quality products for their customers. To follow Laser Pegs'® journey to Go Green, visit the Facebook page or the website.
About
Laser Pegs® is the worlds first toy construction set that uses low voltage current to light up when pieces are connected. The toys teach kids creative abstract thinking, problem solving, math skills, pattern recognition and improved hand/eye coordination. Laser Pegs' virtual construction iPad app allows children to create models in 3D, share manuals and play games. To learn more, visit http://www.laserpegs.com