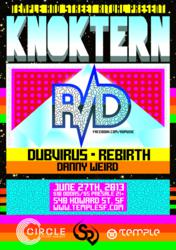 Knoktern is the cutting edge of bass, glitch and everything funky.
San Francisco, CA (PRWEB) June 24, 2013
Temple Nightclub in San Francisco teams up with Street Ritual to present the third installment of the bass and future-funk infused monthly event, Knoktern, on Thursday, June 27, 2013. This month's lineup features Bay Area locals, including R/D, Dubvirus, Rebirth and Danny Weird.
"Knoktern is the cutting edge of bass, glitch and everything funky," said Alex Alden, the event organizer. "It's music we love and want to share with the world."
Knoktern begins at 10:00 pm at Temple Nightclub on Howard St, with free entry for guests who are in line by 10:30. Early bird tickets cost just $5 and general admission costs $10 at the door. Tickets can be purchased in advance here: http://knoktern.eventbrite.com/
Featured artist R/D came up in the San Francisco underground scene but has risen to fame playing major festivals such as Coachella, Electric Forest, Lightning in a Bottle and more. His cutting edge takes on Moombahton, Trap, Dubstep and Electro have led him to collaborate with some of the heavyweights in the scene, including James Blake, Ellie Goulding, and the Glitch Mob. He has also completed an official remix for Kaskade's project Late Night Alumni to be released on Ultra Records.
Dubvirus has been shaking up the West Coast electronic scene with the introduction of his unique blend of soaring melodies and floor shaking robot-crunk basslines that move people both physically and emotionally.
Rebirth, the current project of California-based producer Devin Kroes, breaks away from traditional genre stereotypes and transports listeners to another dimension with his own style that fuses "bubbling bass with rich soundscapes and ancient melodies."
And lastly, there's no denying the passion that Danny Weird brings to the stage. Don't miss this Lazer Bass master in action when he takes the decks at Knoktern this month behind some other seriously heavy hitters.
For more information about Knoktern, visit http://www.templesf.com/calendar or http://www.facebook.com/events/186131864879717/, or call 415-906-3791.
About the Zen Compound
The Zen Compound is an entertainment complex housing Temple Nightclub, Ki Sushi, TMG Recording Studios, Temple TV and ZCFM Radio, all with a sustainable focus.
Temple Nightclub is one of the most popular clubs in San Francisco. Filled with original unique antiquities from Southeast Asia, this incredible San Francisco event space offers 20,000 square feet of space, which can accommodate 1,100 guests on two levels. The nightclub includes four beautiful rooms, each with its own unique atmosphere.
For San Francisco event space rentals or corporate event inquiries, contact Dave Peterson at (415) 529-4307 x 309. For reservations and bottle service inquires contact Natalie Borges at (415) 978-9943 x 304.