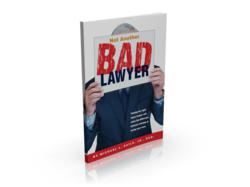 The attorney that you choose can make the difference between winning and losing a case. More importantly, the choice can have lasting effects on the quality of life for an accident victim.
Philadelphia, PA (PRWEB) June 25, 2013
Pennsylvania attorney, Michael L. Saile, Jr., of Saile & Saile LLP, has published his 2nd book, "Not Another Bad Lawyer" in order to help injured accident victims find a great personal injury lawyer. Available on his Pennsylvania Personal Injury website and http://www.injurylawyerbook.com, its focus is to provide valuable tools for accident victims including topics like: things to consider after an accident, finding a lawyer, attributes of a great personal injury lawyer, contacting a lawyer, personal injury fees, and more.
Mr. Saile reveals practical steps to help any injured accident victim determine whether to hire a lawyer or to handle the physical and financial aftermath of an accident alone. Readers don't need a law degree to understand the no-nonsense insights offered. He provides clear, concrete answers to common questions to keep money in the pocket of the victim, and offers easy instruction to locate a lawyer who will be the best match for the needs of an individual accident victim.
In the section entitled, "Three Initial Mistakes to Avoid," Michael L. Saile, Jr., Esq. writes, "The most important thing to do after an accident is to make sure that you get immediate, proper medical treatment. Many people do not seek medical treatment until it's too late. Delaying your medical treatment not only limits your physical recovery, but may also negatively affect your financial recovery in a personal injury claim." For the injured accident victim, the voice of the experience behind this information may provide a measure of comfort.
Injured accident victims are often under great emotional, medical and financial stress. "Not Another Bad Lawyer," is designed to help victims avoid unnecessary worry. It provides valuable information about locating a lawyer best suited for the case, and how to evaluate his or her ability to advocate on behalf of an injured accident victim in a court of law.
Full of helpful tips from an experienced personal injury attorney, the book is an excellent tool for injured accident victims and their families. It is no surprise that few people instinctively know exactly what to do when faced with accident recovery. Mr. Saile believes that knowledge is power. In this book, he shares his insights with injured victims.
Saile & Saile LLP focuses on personal injury law in Pennsylvania and New Jersey. The injury lawyers at Saile & Saile LLP help victims of auto, truck and motorcycle accidents, as well as pedestrian and bike accidents to recover compensation against insurance companies.
Saile & Saile LLP gives away information to anyone who has been injured in an accident in Pennsylvania or New Jersey. They offer a complimentary download of Mr. Saile's PA Car Accident book titled "Don't Crash Again: A Car Accident Victim's Guide to Maximizing Recovery." Saile & Saile LLP has also produced informative videos, which can be viewed on their injury websites.