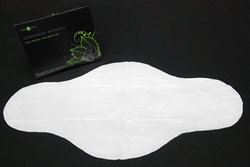 Bradenton, FL (PRWEB) June 25, 2013
With the summer trends of ombre hair and maxi dresses, it's possible to get a great body to complement that red, white and blue outfit for the Fourth of July. A botanically based wrap can tighten, tone, and firm pesky body areas in a matter of minutes – the perfect confidence boost for the holiday festivities.
The It Works! Wrap is infused with botanical ingredients such as horse chestnut, green tea, guarana and eucalyptus to firm skin and minimize the appearance of cellulite. The body wrap is for areas that could benefit from some tightening and toning – such as the abdomen, arms, back, buttocks, legs or side.
While spa wrap treatments are expensive and time-consuming, the It Works! Wrap is applied for only 45 minutes. Simply leave the wrap on while handling last-minute Fourth of July preparations like shopping for fireworks, burgers and other Independence Day entertainment. Many users see results after their initial 45 minutes of using the wrap.
Spend this day with friends and family without worrying about body insecurities and expensive salon appointments. The It Works! Wrap – along with proper exercise and nutrition – is a great way to achieve an all-American body in a timely and cost-effective way. It's time to enjoy summer again.
About It Works! Global
Founded in 2001, It Works! Global is an innovative leader in the direct sales industry that offers an everyday, instant-results product line starting with the unique It Works! Wrap, a contouring product that can tighten, tone and firm any area of the body in just 45 minutes. Coupled with a mission to show people how to live a debt-free life, It Works! Global has simplified its success system into three easy steps: join the party, wrap for free and guarantee. It Works! Global currently pays bonuses in addition to commissions to more than 50,000 independent distributors from all over the world. Visit http://www.ItWorksGlobal.com for additional information.
For additional information, interview, image and product sample requests, contact the Axia public relations firm at 888-PR-FIRM-8, ext. 700.