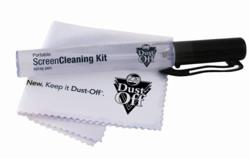 Branchburg, NJ (PRWEB) June 25, 2013
Dust-Off®, the leading brand of consumer electronic cleaning products, is taking care of consumers' electronic cleaning needs during summer vacations this year. Thanks to Dust-Off's wide array of screen cleaning products, consumers can be confident that all their electronics will be spotless no matter where they go on vacation.
Whether it is relaxing on a beach, camping in the mountains or sight-seeing in a new city, electronics have become an essential part of vacations, no matter the destination. Electronics help vacationers navigate unknown territories, capture their vacation's most memorable moments and provide entertainment, so it's important that they are kept clean with products from Dust-Off.
•With Dust-Off's Smartphone Screen Wipes, travelers can easily clean their smartphone on-the-go. These fast drying wipes are designed especially for smartphones to help keep mobile device free of fingerprints and grime. The convenient size of the pack allows users to easily keep them in a purse or backpack for cleaning anywhere. Each pack comes with 12 wipes to help ensure that any smartphone will be clean all vacation long.
•Dust-Off's Portable Screen Cleaning Kit allows vacationers to keep their cameras clean throughout their trip to help ensure they capture every memorable moment. The pen-sized pump spray and Microfiber cloth come in an easy to store compact package. The portable screen cleaner offers a safe and effective solution for removing smudges and fingerprints from any camera model.
•From reading on the beach to keeping the kids occupied in the back seat during a long road trip, tablets are the ideal device for entertainment on vacation. But when they are speckled with dust and smeared with grime and fingerprints, it makes reading or watching movies difficult. Dust-Off's Premium Tablet Cleaning Kit helps remove dirt grime and fingerprints from any tablet. The kit contains Dust-Off's Premium Screen Spray and Screen Shammy™ Microfiber Cloth to safely wipe and polish tablets clean without leaving behind streaks or residue.
This summer Dust-Off is teaming up with Polaroid to give away one Polaroid Kids Tablet to a lucky fan of the Dust-Off Facebook page as part of the Summer of Creativity Giveaway. The 7.0" Polaroid Kids Tablet combines all the fun and entertainment kids love with the security, durability and educational content that provides parents with peace of mind, making it the ideal device for those long road trips. For more information on the contest and to enter for a chance to win please visit, http://a.pgtb.me/Nc4G67.
For more tips on cleaning electronics visit, http://www.youtube.com/watch?v=iM_1BVnNwkY. All of Dust-Off's screen cleaning products are currently available and can be purchased at http://www.dust-off.com/products.
About Dust-Off®
Manufactured by Falcon Safety Products Inc., a world leader in compressed-gas technology, Dust-Off offers the most comprehensive line of dust removing and preventive maintenance products for consumer electronics and home or office equipment. Dust-Off compressed-gas dusters are one of the most versatile cleaning accessories available to consumers today and have long been a staple for the care and maintenance of computers and other electronic equipment. For additional information, please visit http://www.Dust-Off.com or follow on Facebook at http://www.Facebook.com/KeepitDustOff.
Polaroid and Polaroid & Pixel are trademarks of PLR IP Holdings, LLC, used with permission. PLR IP Holdings, LLC is not a sponsor of this contest.