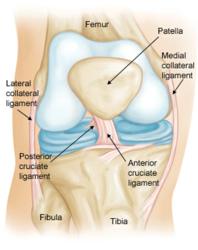 The market for orthopedic soft tissue repair is valued at over $1.5 billion, with the ACL/PCL reconstruction and fixation markets contributing to a significant portion of the total market
Vancouver, BC (PRWEB) June 24, 2013
According to statistics released by the American Academy of Orthopaedic Surgeons along with the American Orthopaedic Society for Sports Medicine, there are approximately 150,000 ACL (anterior cruciate ligament) injuries each year in the United States. One of the main causes of ACL injury is direct impact to the knee, which often happens in high-contact sports such as football or basketball. However, most ACL tears happen when there is no contact between the knee and another object, and are instead a result of hyperextension or rapid change in direction, which happens often in agility sports. Since stitching the ligament together hardly ever proves to be successful, several techniques have been developed which involve reconstructing the ACL by building a ligament out of a graft substitute such as allografts, autografts, or xenografts. The high procedural costs of these surgeries account for a yearly healthcare expenditure of half a billion dollars.
According to the latest intelligence from iData Research, the leading authority in global market research, the market for orthopedic soft tissue repair is valued at over $1.5 billion, with the ACL/PCL reconstruction and fixation markets contributing to a significant portion of the total market. The two different types of reconstructions that can be done use either bone-patellar bone tendon-bone (BTB) grafts or soft tissue graft methods. "While BTB grafts are considered the gold standard in reconstruction procedures, soft tissue grafts produce less anterior knee pain, but are more prone to becoming stretched over time," explains Dr. Kamran Zamanian, CEO of iData Research. For procedures using BTB grafts, only interference screws are used for anchoring the tendon or ligament of the graft to the bone. In contrast, for procedures that use soft tissue grafts, a variety of other devices are available to fixate the graft to the femoral and tibial tunnels.
The Muscoskeletal Transplant Foundation (MTF) led the ACL/PCL reconstruction market share in 2012. MTF is the largest tissue bank organization in the U.S. and is a non-profit service organization. RTI Biologics followed close behind, with a healthy level of growth that can be in part attributed to their release of 18 new implants and implant enhancements in 2012. In the fixation segment, Arthrex was the market leader, based on their high market share in nearly all material segments, particularly in the lucrative biocomposite segment. Depuy Mitek came in close second, with their Bio-INTRAFIX™ being considered as the gold standard fixation product for soft tissue tibial fixation. Moreover, Smith & Nephew was a major player, mostly due to their strength in the cortical fixation segment which they pioneered with the ENDOBUTTON® cortical fixation device. Other notable competitors in the reconstruction and fixation markets were AlloSource, LifeNet Health, ConMed Linvatec, Stryker, Biomet, Cayenne Medical, and ArthroCare.
A synopsis for each market intelligence publication in the global series on the Markets for Orthopedic Soft Tissue covering the U.S., China, India, Japan, Brazil, as well as 15 European countries is available here. The full series provides a comprehensive analysis including procedure numbers, units sold, market value, forecasts, as well as a detailed competitive market shares and analysis of major players' success strategies in each market and segment. The reports also cover markets for: cartilage repair, meniscal repair, rotator cuff repair, shoulder labrum repair, rotator cuff graft reinforcement devices, hip arthroscopy, and biceps tenodesis.
About iData Research
iData Research is an international market research and consulting group focused on providing market intelligence for medical device and pharmaceutical companies. iData covers research in: arthroscopy, orthopedic biomaterials, orthopedic trauma, soft tissue repair, spinal implants and MIS, and orthopedic large and small joints.