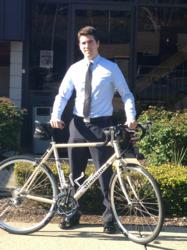 The GAP trail is an exciting example of a collaborative project meeting the needs of bicyclists and resulting in a safe, dedicated, and scenic path free of motorized vehicles.
Pittsburgh, PA (PRWEB) June 24, 2013
On Saturday, June 15, 2013 the Great Allegheny Passage (GAP) rail-trail was completed connecting Pittsburgh to Washington D.C. The GAP is a 150 mile bicycle and hiking trail that connects with the 184.5 mile C&O Canal Towpath creating a 334.5 mile path free of traffic and motorized vehicles.
In a press release, Allegheny Trail Alliance President Linda Boxx said, "The completion of the GAP marks 35 years of work by hundreds of volunteers to connect Pittsburgh with Washington, D.C., with the longest multi-use trail system in the United States, as well as the most-accessible great trail experience in the world."
Bicycle Accident Attorney Sean Murphy of http://www.bicycleaccidentlawyersusa.com is encouraged by the GAP project and for the future of bicycle safety. "The GAP trail is an exciting example of a collaborative project meeting the needs of bicyclists and resulting in a safe, dedicated, and scenic path free of motorized vehicles," said Murphy. "The inevitable economic and recreational benefits of this trail will hopefully spur the development of other proposed large-scale trails across the country." Trails like the GAP may help reduce the number of bicycle injury accidents in cities like Pittsburgh and Washington D.C. – Something Sean Murphy and the Law Office of Jason Waechter are working on reducing.
"This opens up a great opportunity for outdoor enthusiasts from Maryland and Washington, D.C.," said Craig Davis, president and CEO of VisitPittsburgh. "What better place to start such a beautiful trail than in Point State Park? Cyclists, hikers and runners can enjoy spectacular views of the city from it. And, it is one more feather in the cap of Pittsburgh for being healthy, clean and green."
Community celebrations were held in Pittsburgh on June 15th beginning with a ribbon-cutting at Sandcastle Waterpark, followed by a community bike parade to Point State Park where a party and dedication ceremony took place. An eight-day bicycle ride from Washington D.C. to Pittsburgh preceded the celebrations.
The trail is nearly level and made of crushed limestone for a smooth ride, built mainly on old railroad track beds. It is open to bicyclists, hikers and even horses. Horses are only allowed on the grassy area in three different locations. Winter will allow cross-country skiing and snow shoeing.
Restrooms are offered along the trail as well as an array of restaurants, bed and breakfasts and hotels which can be located on the map of the trail.
The Allegheny Trail Alliance encourages bringing water, wearing appropriate clothing and using a hybrid or mountain bike. Cyclists might cover the trail in seven to 10 miles an hour while walkers and hikers may average two to three miles an hour. The speed limit on the trail is 15 mph. The Alliance also recommends planning to account for weather and emergencies along the trail. They include a preparation and checklist on the GAP website as well as trail status updates and everything a biker or hiker needs to know about the area before hitting the trail.
Attorneys Jason Waechter and Sean Murphy are Michigan attorneys specializing in the area of bicycle accident and personal injury litigation. Waechter's firm has collected millions of dollars in settlements, awards and verdicts for his clients over the past 20 years. As well as contributing significantly to safety education and accident prevention. For more information visit their website at http://www.bicycleaccidentlawyersusa.com.