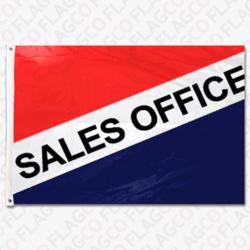 Sometimes simplicity can be the key to success.
Atlanta, GA (PRWEB) June 25, 2013
Sometimes just a simple, catchy, easy-to-read, at-a-glance message flag by The Flag Company, Inc. can do as much or more than all the Twitter, Facebook, e-mail blasts, radio spots, direct mail, signs, or paid printed ad options designed to bring in new business.
Part of the lively summer décor, message flags are visible and the color and fluttery fare add to summer festive fun. Used by all types of businesses, message flags are less expensive than signs and with just a simple catchy word or phrase, a flag can attract the right attention with little effort.
The Flag Company, Inc. has a varied inventory of message flags in stock including choices from their selection of Standard, Economy, Super Size, Designer, Angled, Banner, Vertical, and Message Bowflags® in either Angled or Tear Drop format. Within these choices there is a large variety of variations to choose from and hundreds of distinct messages choices ready for immediate shipping as well as custom, made-to-order possibilities. All flags are quality manufactured, durable and long lasting, ready for multi-year use, and sport these sturdy features:

Single-sided construction
Printed on nylon
Red, white, blue theme colors
Black Helvetica bold lettering
Canvas header and brass grommets
While the Standard model is sized at 3' x 5', with a horizontal message, the Economy version is 2' x 3' and the Economy Message Field Flag includes a 6' x ¼" two-piece flexible pole with a ferrule—the flexibility pole allowing movement that attracts attention. The Designer model, also at 3' x 5' includes a graphic image of the word while Super Size models are available in sizes of 4' x 6', 5' x 8', or 6' x 10'.
Sometimes simplicity can be the key to success, and The Flag Company, Inc. has a simple solution for businesses to simply get the message out.
About The Flag Company, Inc.
As the largest online flagpole supplier, The Flag Company, Inc. offers a complete range of flags and flag-related products in addition to its line of flagpoles and signature Flagpole Beacon. Custom screen-printing and digital printing are available for special events, corporate logos, etc. Stock merchandise includes U.S., state, international, and military flags, and all types of accessories such as bunting, memorial cases, pennants, and more. The Flag Company, Inc. is the nation's largest producer of message flags, offering over 300 different messages used by realtors, restaurants, car dealerships, and any other kind of company imaginable. Toothpick flags—both stock and custom-made to order— are also available. The complete product line can be viewed at http://www.flagco.com. "Feel Good Light-Ups," a decorative light lens for fluorescent light fixtures, are now so popular there is a dedicated website at http://www.feelgoodlightups.com. Flagpoles and Flagpole Beacons are featured at http://www.flagpolewarehouse.com. Toothpickflag.com has a wide selection of toothpick flags for any occasion, party or corporate event, with a custom department for that one-of-a-kind special design.