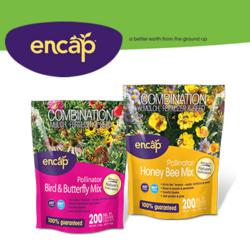 Customers love Encap's flower mixes and look always look forward to the new mixes that we are creating for next season
(PRWEB) June 25, 2013
Encap, LLC a leader in innovative and earth friendly lawn and garden products have added two new flower products this season.
The two new mixes; Pollinator Bird and Butterfly Mix and Pollinator Honey Bee Mix are beautiful blends of annuals and perennials that will attract garden life and help ensure a bountiful harvest.
Encap's easy to use (just sprinkle, water and grow) All-in-One flower mixes include a blend of mulch, seed and fertilizer and are offered in a variety of colorful mixes. All flower mixes also include their patented Seed Watering Technology (SWT™) which takes the guesswork out of when to water with sparkling crystals and their Advanced Soil Technology (AST™) which keeps the seed in place after it is sprinkled on the ground.
"Customers love Encap's flower mixes and look always look forward to the new mixes that we are creating for next season," said Chris Calawerts, President of Encap, LLC.
Encap's current flower line includes: Dasiy Mix, Pollinator Bird & Butterfly Mix, Pollinator Honey Bee Mix, Wildflower Aromatic Mix, Wildflower Bouquet Mix, Wildflower Butterfly & Hummingbird Mix, Wildflower Shady Mix and Zinnia Mix and can be purchased at major retailers nationwide.