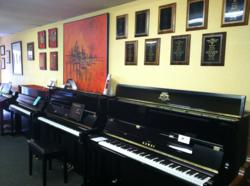 Jim's Pianos is buying and selling new and used pianos - now all at one location.
(PRWEB) June 24, 2013
The most resilient piano store in North Florida is "online, on Mandy Lane, and on the job." Jim's Pianos is buying and selling new and used pianos—now all at one location: their shop on Mandy Lane. They are also continuing to move, tune, and restore pianos within a 100 mile radius of Tallahassee, FL.
Owner, James Sims, has always considered this shop to be the heartbeat of his business, as he enjoys the hands-on repair and restoration the most.
In 1983, this building started out as his production location for design, construction, and nationwide distribution of piano benches. He had a special structure feature which is still recognized in benches floating around the region today.
Thirty years later, in 2013, the building is still alive and thriving with business. Customers are encouraged to "drive a little, save a lot" to visit this warehouse location which keeps their cost low and the customer's expense even lower.
They are also celebrating the anniversary of Jim's longest running employee, James Green. Mr. Green began work for Jim Sims in 1983, and has moved every single piano on the books. He is the definition of hard-work, dedication, and loyalty. Jim's Pianos is proud to celebrate his 30th anniversary with a month's vacation this summer.
In addition, the youngest employee of Jim's Pianos, hired in 2009, is GinaMarie Senters who is not without her own accolades. This May, Ms. Senters won a contest to sell the most KAWAI pianos in small market territories of North America over this past winter. In celebration of 50 years of sales in North America, Kawai America Corp. awarded 12 dealers and 12 top salespeople with a paid trip for two to Japan.
Knowledge and experience are always what customers will find at their fingertips at Jim's Pianos. Visit their website at http://www.jimspianos.com.
<br>About the company:<br>At Jim's Pianos, they achieve a high level of customer satisfaction by upholding the principle that no service is final until the customer is completely happy. Owner James R. Sims has built his business based on a philosophy of exceptional service and fair prices. His expertise ranges from sales, to personal in-home tunings, and complete restoration of musical heirlooms. Manager Gina Marie Senters is a Tallahassee native with a Bachelors Degree and experience in Music Education and Music Ministry. She has a passion to see schools, homes, and houses of worship equipped with the best pianos possible. She works to provide professional and knowledgeable services which put Jim's Piano Customers first. For more information, visit their website.