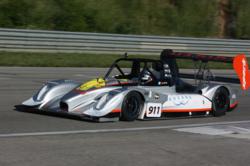 "We opted for a different approach, with significant advantages. It's going to be a big adventure, both technical and human. And we are glad that Oscaro.com is part of it"
Campbell, California (PRWEB) June 26, 2013
As Roman Dumas is intent on challenging the class leader in the 2013 PPIHC, Oscaro is challenging the experience of purchasing auto parts online.
"Romain has chosen the Norma prototype, made it lighter to improve its performance, and modified it to improve its downforce during the race. At Oscaro.com, we are proud to be associated with this innovative effort to use agility to deliver a better experience: this is the way we conduct our business," explains Pierre-Noel Luiggi, Oscaro.com Founder and Chief Executive Officer. "Just as Roman has chosen to use a cutting-edge platform to win the Pikes Peak Hill Climb, here at Oscaro.com we are using our innovative online platform to win customers' hearts."
Last year at Pikes Peak, Roman Dumas finished 17 thousandths of a second off the leader in his Porsche 911 GT3. Now entering the Unlimited Class, Dumas is targeting the frontrunner position. "We opted for a different approach, with significant advantages. It's going to be a big adventure, both technical and human. And we are glad that Oscaro.com is part of it," says Romain Dumas.
For more information, please visit http://www.oscaro.com or call 1-855-8-OSCARO.
About Oscaro.com:
Oscaro.com was founded in 2001 by a car geek who imagined an easier and friendlier way to provide the do-it-yourself community with high quality genuine auto parts, online. The company was started, where else, in a garage! Since that modest beginning, and based on its friendly People-to-People culture Oscaro.com has grown into a multinational company. Oscaro.com dedicates itself to delivering the highest quality aftermarket OEM parts and to providing a great buying experience to tens of thousands of individual customers worldwide, daily. Oscaro.com now generates more than 200 million dollars in revenue with over 500 employees and is based in the San Francisco Bay Area.
About Romain Dumas:
Romain Dumas is a racing endurance champion. Dumas's track record includes winning the 24 Hours of Le Mans, 12 Hours of Sebring, 24 Hours of Nürburgring, 24 Hours of Spa, American Le Mans Championship, and he was the 2012 Pikes Peak International Hill Climb Rookie-of-the-Year. A French native and Porsche official driver, Dumas has 21 years of racing successes.
Related Links:
http://www.oscaro.com
http://www.pphic.com
http://www.romaindumas.com