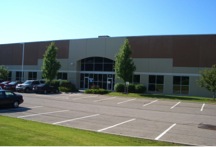 Columbus, Ohio (PRWEB) June 24, 2013
Privately-held real estate investment firms Hackman Capital Partners, LLC, of Los Angeles announced today the successful acquisition of a 28-building industrial real estate portfolio totaling 2,593,602 square feet. The transaction closed for the multi-tenant Ohio buildings on Friday, June 14.
Five of the properties, 24% of the portfolio, are located in Columbus with 611,578 square feet. Sixteen properties, 61% of the portfolio, are located in Cleveland with 1,587,952 square feet. The remaining seven properties, 14% of the portfolio, are located in Cincinnati with 394,072 square feet. Two land parcels in Columbus, totaling 23.48 acres, also are included in the portfolio.
The multi-tenant buildings are comprised of 108 tenant spaces ranging from 2,400 to 219,600 square feet, and as of closing, 73% of the space is occupied.
Deutsche Bank provided first mortgage financing in connection with the transaction and affiliates of New York based Square Mile Capital Management LLC supplied an additional $25 million of capital.
According to Michael Hackman, Founder and Chief Executive Officer of Hackman Capital, the new assets will be managed from its regional office in Columbus Ohio. "We have a solid presence in Ohio and a Columbus team with deep knowledge of Midwest markets, allowing us to identify and quickly respond to investment opportunities like this portfolio," said Hackman. "We're thrilled with the acquisition and excited to be expanding our footprint in Ohio."
Hackman Capital entered Ohio's industrial market in 2010 with the purchase of a 224,600-square-foot distribution center at 4370 Alum Creek Drive in Columbus. Two years later, the company acquired a 2.8-million-square-foot industrial portfolio in Columbus from Schottenstein Property Group. Of the 20.6-plus-million square feet that Hackman Capital now owns nationally, through its affiliates, 5.6 million square feet are located in Ohio.
Hackman Capital's ties to the area, however, go beyond its Ohio holdings. Michael Hackman and other Hackman executives were Columbus born and raised, as were all the members of its growing regional staff.
"Ohio is our home, and we know the state extremely well," said Hackman Capital's Executive Vice President and Worthington native David Smith. "We have an insider's knowledge, and we have the proximity to leverage it. We're close enough in central Ohio to touch every building and every tenant. Nothing replaces the benefit of that kind of local reach. What's more, our team has full-service capabilities, with expertise in leasing, asset management, construction, accounting and marketing to serve the product well."
In addition to Hackman Capital's internal team, the company has retained leasing agents for the new Ohio portfolio from Jones Lang LaSalle, CBRE, Newmark, Grubb Knight Frank, RG Boll and Colliers International. Hackman Capital also has retained Colliers International as property managers of the portfolio.
More About Hackman Capital
Founded in 1986 and headquartered in Los Angeles, Hackman Capital is a privately held, asset-based investment firm that focuses on the acquisition of industrial real estate and the purchase and sale of industrial equipment. The firm currently owns, through its affiliated entities, more than 130 facilities throughout the United States, totaling over 20.6 million square feet and more than 20,000 acres of developable land. Hackman Capital also has conducted hundreds of equipment acquisitions, dispositions, and liquidations on four continents. With more than 27 years of experience in acquisition, redevelopment, and asset management, Hackman Capital is known across marketplaces for its ability to successfully navigate complex transactions and financial restructurings involving real estate and equipment. The company is based in Los Angeles and oversees its Midwest, Mid-Atlantic and Southeast operations, from its regional office in Columbus, Ohio. The Columbus office manages approximately eight million square feet of properties in Ohio, Michigan, Kentucky, Virginia and West Virginia.
For more information, visit http://www.hackmancapital.com.
More About Square Mile Capital Management
Square Mile Capital Management LLC is a private investment firm based in New York that focuses on real estate and real estate-related opportunities, including both debt and equity investments on behalf of select institutional and private investors. Square Mile takes a value-oriented approach to its investment activities, with an emphasis on opportunities to acquire or capitalize assets or enterprises that are undervalued, overlooked, complex or mispriced. Since inception, Square Mile has formed four discretionary real estate funds and has invested nearly $2 billion of equity in more than 90 distinct investments.