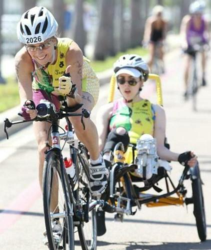 We're achieving a dream that no one thought we could ever achieve ~ Win Charles
Aspen, CO (PRWEB) June 24, 2013
When "Win" is your first name, that's what you do, no matter the obstacles.
Aspen, Colorado's Win Charles has two formidable obstacles, cerebral palsy and severe scoliosis. Born with both conditions, she doesn't allow herself to be defined by either.
An aspiring triathlete, she teams with her cousin, Barbara Ann Bernard, an experienced triathlete from Nassau, Bahamas. Together, Bernard and Charles compete as "Team weWin," tackling triathlons and other events.
"We're achieving a dream that no one thought we could ever achieve," Charles said.
They aspire to the annual IRONMAN World Championship event on the Big Island of Hawaii's Kona Coast — the sport's biggest state — as the first female team to have attempted an IRONMAN competition. But, they need public assistance to get there.
Rather than typical training goals, Bernard and Charles are competing for a slot in the IRONMAN Kona Inspired program, which awards seven starting spots in the annual IRONMAN world championship triathlon. The Kona Inspired program honors athletes with exceptional stories and Team weWin fulfills that criterion.
Charles' physical conditions mean she provides the motivation while Bernard functions as their engine. An artist who has written about living with cerebral palsy, Charles, 25, refuses to succumb to it.
"I still hold the record for being the smallest baby born at Aspen Valley Hospital," Charles said. "I would like to set another record in my life and be the first female team with cerebral palsy to complete the Kona IRONMAN."
Each finalist for the 2013 Kona Inspired program has submitted a 90-second video describing how he or she lives the IRONMAN mantra, "Anything is Possible." Those videos are posted on the Kona Inspired Web site in three groups of 15. Click here to see videos.
Two winners will be chosen from each group, via public vote, along with one "at-large" winner chosen from the 45-finalist pool.
Team weWin is in the second group of 2013 Kona Inspired hopefuls, a voting period that began Monday, June 17 and ends June 27 at 11:59 p.m. ET. Their video is titled, "The Iron Will to Win," and they estimate they need approximately 50,000 votes.
A financial analyst, IRONMAN competitor and the 2012 IRONMAN Executive Challenge Women's Athlete of the Year, Bernard, 33, finished last year's IRONMAN World Championship in 12:42:00, ranked 62nd among women ages 30-34.
The cousins already have intensive training behind them. They competed in the 30th annual St. Anthony's Triathlon in St. Petersburg, Fla., on April 28, finishing 800th out of 825 female competitors.
Consider that Bernard swims the 2.4 miles pulling her cousin in an inflatable boat, cycles 112 miles with Charles in tow on a recumbent bicycle and runs the final 26.2 miles pushing her in a special wheelchair, and the "team" aspect of their endeavor is palpable.
So is the enlightenment. The cousins' tough training has helped Charles experience a new independence and confidence. It also has raised money and awareness for the Challenged Athlete Foundation, plus inspired numerous "handi-capable" children.
"What we all have in common is the iron will to win," Charles said.
To vote for Team weWin, visit their website below.
Follow Team weWin on their Facebook page TeamWeWin and Twitter @TeamWeWin. Use the hashtag #TeamWeWin to cheer the team on.