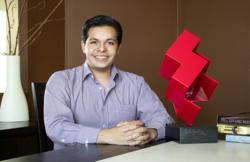 A powerful distribution channel that takes advantage of e-commerce, and at the same time will promote a culture of investment and collecting in contemporary Mexican and Latin American art and design
Mexico City (PRWEB) June 27, 2013
InnVentas announces the launch of the first professional art and design e-commerce platform in Mexico and Latin America, which will expand the current traditional market and promote collecting in contemporary Mexican and Latin American art and design at a local, regional and global level.
InnVentas e-commerce platform intends to become an ally of traditional galleries and artists in an industry that represents $132 million USD in Mexico.
InnVentas is an innovative platform, which brings online the exhibition and sale of original mexican and latin american contemporary art, fine crafts, photography and design artworks ranging from $50 USD to $12,500 USD. InnVentas starts operations with a growing portfolio of emerging and established contemporary artists of different artistic styles through a robust and secure platform, which aims to provide a great user experience, high quality content and the highest security mechanisms on payment methods, information management and delivery logistics.
Mexico is among the top 10 countries in the world with the most cultural offer and diversity. It's important to mention that 36% of people who buy art in Mexico, live in the largest metropolitan areas: Mexico City, Monterrey and Guadalajara. However, the remaining 64% live outside these cities. In contrast, 80% of the distribution channels (those who sell art, such as art galleries, outdoor art markets or expos) are concentrated in large cities. "This is one of the great opportunities for InnVentas, it opens a high quality offer for people who are interested in Mexican and Latin-American art and design anywhere in the world, but because of time or availability can´t go to these urban centers where those distributors are located", says Rodrigo Blanco, Founder and CEO of InnVentas.
"Mexican artistic talent is one of the most valued and admired worldwide, however artists face major challenges to market and promote their artwork nationally and internationally, we decided to create a professional e-commerce platform with the potential to revolutionize the market, by becoming an ally of emerging and consolidated artists, most of them selected by an expert team of art curators", says Rodrigo Blanco, founder and CEO of InnVentas, adding: "We will support Mexican, Latin-American artists and traditional galleries with a powerful distribution channel that takes advantage of e-commerce, and at the same time we will promote a culture of investment and collecting in contemporary Mexican and Latin American art and design".
From an analysis based on the number of national and international distribution channels, average sales, formal and informal markets; InnVentas estimates the art market in Mexico represents about $132 million USD.
The affordable art market is one of the newcomers to the e-commerce industry, and thanks to technology for multimedia experiences and increased security measures, is now a reality. During 2011 in the United States, $287.5 million USD in art pieces were sold online, for 2016 is expected to reach $338.9 million USD dollars (IBISWorld). "Selling art online is becoming increasingly common in mature markets, in the near future, almost half of art transactions will be online", said the CEO of InnVentas".
"From a conservative point of view, it is estimated that 4.6 million Mexican Internet users are interested in learning more about art and design. This represents a great potential for InnVentas, where we offer a new way to find and buy art and desing that is relevant to them, furthermore we want to reach those customers who still do not see art as an investment or are intimidated by the current market structure" added Rodrigo Blanco.
InnVentas sees a very positive outlook for e-commerce in Mexico and Latin America. Internet penetration continues to grow in the region and is estimated at 42% with 250 million users, but this technology is expected to reach 50% of the population in the region by 2014. "Latin America is a very dynamic emergent area with great growth potential and fertile ground for new Internet business models" concluded the chief executive officer.
About InnVentas:
InnVentas is the first professional art and design e-commerce platform in Mexico, it seeks to expand the market and recognition of the original and certified artworks of talented contemporary Mexican and Latin American artists, and at the same time promotes a culture of investment and collecting in contemporary Mexican and Latin-American art and design.
InnVentas is a Mexican start-up, led by Rodrigo Blanco, a young entrepreneur that attended San Francisco State University and Harvard University as an international student during his college education.