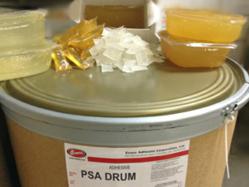 In addition to supporting opportunity advancement, this certification provides new paths to improve business relationships.
Columbus, OH (PRWEB) June 25, 2013
Evans Adhesive Corporation, a business specializing in the manufacture of industrial adhesives, has received national certification as a Women's Business Enterprise by the Ohio River Valley Women's Business Council, a regional certifying partner of the Women's Business Enterprise National Council (WBENC).
The WBENC national standard of certification implemented by the Ohio River Valley Women's Business Council is a meticulous process including an in-depth review of the business and site inspection. The certification process is designed to confirm that the business is at least 51% owned, operated, and controlled by a woman or women. By including women-owned businesses among their vendors, corporations and government agencies demonstrate their commitment to fostering diversity and the continued development of their supplier/vendor diversity programs.
"This is a major milestone for the company," said Rusty Thompson, Evans President and CEO. "In addition to doing our part for the advancement of equity and opportunity in the workplace, this certification provides an expansive new opportunity to improve our visibility and business relationships," Thompson concluded. This certification comes on the heels of Evans' recent announcement regarding strategic investments in customer service and marketing automation technologies – see Evans Ups Its Game . For more information on the company see Evans Adhesive and the section below.
About Evans Adhesive
Evans Adhesive Corporation – a women owned business and certified Women's Business Enterprise was founded in 1900 and incorporated in 1902 as The Commercial Paste Company. It has been in the Evans family since 1920 and is one of America's leading manufacturers of industrial adhesives. With headquarters centrally located in Columbus Ohio, and additional manufacturing facilities in Rancho Cucamonga California, the company provides service on a national basis. Evans has a well-established reputation in the industry, with an emphasis on customer satisfaction, product quality and timely delivery. Its array of capabilities is broad and includes pressure-sensitive hot melts; polyamides; APAO; EVA packaging hot melts; various water-based, palletizing, and Graphic Arts as well as Outdoor Advertising adhesive applications. Evans is a member of Adhesive and Sealant Council (ASC), the leading industry member group that includes manufacturers of adhesives and sealants, plus industry suppliers, ranging from privately held companies to multi-national corporations. Rusty Thompson, Evans' President and CEO, serves as ASC's Board Chairman. Evans is also a member of the Composite Can & Tube Institute ™ and the Drywall Finishing Council.
About WBENC
The Women's Business Enterprise National Council - http://www.wbenc.org/ - is the nation's largest third party certifier of businesses owned and operated by women in the United States. WBENC is a resource for more than 1,000 U.S. companies and government agencies that rely on WBENC certification as an integral part of their supplier diversity program.
About The Ohio River Valley Women's Business Council (ORV-WBC)
The ORV-WBC provides a national, premier WBENC certification to women owned companies in Ohio, Kentucky and West Virginia. Major corporations and government agencies utilize the WBENC organization as a clearinghouse for women suppliers seeking procurement opportunities. Currently, over 795 women owned companies are certified through the Ohio River Valley region:

Ohio - 598 Women Companies
Kentucky - 158 Women Companies
West Virginia - 12 Women Companies
-30-