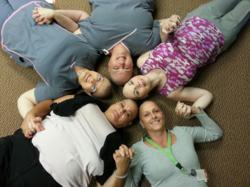 This is something we could do, and we did.
Rogers, Arkansas (PRWEB) June 25, 2013
After beginning cancer treatment, Pamela Burton wasn't surprised by the loss of her hair, but she was surprised by four of her co-workers at Mercy Clinic General Surgery. They welcomed her with open arms, warm smiles and newly shaved heads.
"I was moved to tears and beyond words," said 54-year-old Burton.
Burton was being treated for breast cancer, a trying journey that began in April of 2013 with Pamela's breast cancer diagnosis. She had already been through a double mastectomy and now she was receiving chemotherapy, which causes hair loss. Shaving her head had been a traumatic part of her cancer journey, as it is for many cancer patients. It's a time when emotional support is valuable.
"There was no way we were going to let Pamela walk that part of this alone. We knew without a doubt we were shaving our heads," said Kathy Beckwith, a Mercy co-worker for 32 years. "When I shared my plan with the others, they were onboard. We are a family, a team and friends. We can't make the diagnosis go away for Pamela, but this is something we could do, and we did."
After Pamela left work one day recently, Beckwith, Pam Cox, Carmen Smith and Laura Brown gathered to take a picture of themselves with their hair, an accessory they knew they would be living without for a while, and then they shaved their heads in support of their co-worker and friend. The next day, Burton was surprised and shed tears of joy because of their show of love and support.
Only 15 percent of women are diagnosed with the triple negative strand of breast cancer that Pamela has. The bilateral mastectomy she underwent earlier this year put her at a 67.5 percent chance of living cancer free. The chemotherapy increases her survival rate to almost 80 percent. With the strength of her faith, her husband, daughters, son-in-law, beloved co-workers and close friends, she hopes to beat the cancer and inspire others along the way.
Mercy Northwest Arkansas includes a 200-bed Mercy Hospital in Rogers, an Ambulatory Surgery Center in Bentonville and 30 Mercy Clinic locations including Bella Vista, Bentonville, Centerton, Lowell, Rogers and Noel, Mo. Mercy Northwest Arkansas is part of Mercy, the sixth largest Catholic health care organization in the U.S., which includes 32 hospitals, 300 outpatient facilities, 39,000 co-workers and 1,900 integrated physicians in Arkansas, Kansas, Missouri and Oklahoma. Mercy also has outreach ministries in Louisiana, Mississippi and Texas. For more information, visit http://www.mercy.net. For videos, photos and more, go to http://bit.ly/BaldCause.