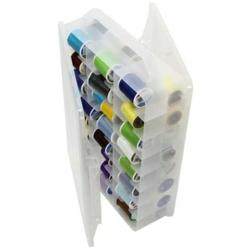 Being able to offer bulk pencil boxes to educators at a discounted rate can hopefully help parents and teachers with their 'back to school' budget.
Urbana, IA (PRWEB) June 27, 2013
E-commerce company JustPlasticboxes.com has added new styles of plastic storage boxes to its web store, with a goal of reaching new consumer household, restaurant, and educational markets.
The company, which was launched just last year by Clickstop, was created as a spin-off of Clickstop's SpaceSavers.com web store. The premise is to offer bulk quantities of the company's most popular name brand plastic storage boxes at wholesale prices. Because items can be bulky, free shipping is also offered every day, regardless of order size.
New products were recently added as a way to target a more specific market of household and restaurant use and include airtight storage containers for bread, cereal, coffee, and sugar from Buddeez and charcoal caddies from Kingsford.
The company is also targeting educational markets by adding more craft storage boxes with dividers and other small plastic storage boxes that teachers can use for classroom organization. The pencil box collection from Sterilite was recently expanded to offer three size options to appeal to teachers, says product and sales specialist Brandi Bowers.
"We added the Sterilite pencil box collection because we noticed a lot of schools were contacting us for other sized plastic storage boxes, and we know pencil boxes are a regular school supply in many classrooms," said Bowers. "Being able to offer bulk pencil boxes to educators at a discounted rate can hopefully help parents and teachers with their 'back to school' budget."
Bowers says the number of non-profit organizations is also increasing in the company's customer base. The bulk quantities make it more cost-efficient for larger purchases when budgets are tight.
"One of our customers is a gentleman running a non-profit sports organization. He purchases 12 packs of our latch top plastic storage totes to store thousands of football jerseys in preparation for the fall leagues," said Bowers.
The website also offers the option of purchasing additional quantities for an even lower price per set. Charts with cost savings are posted clearly on each product page. While the plastic storage boxes are listed in multiple quantity sets on the website, single quantities are always available by calling the sales team at 800-736-0651. The company's Midwestern location means shipping time is just one to four days in the continental U.S.
Bowers says the company is continually researching new products and is anticipating another round of additions in the near future to include Christmas storage boxes.
About JustPlasticBoxes.com
JustPlasticBoxes is owned by Clickstop, Inc., an online retailer of niche brands in several different categories. Websites under the Clickstop company umbrella also include SpaceSavers.com, BellyBling.net, USCargoControl.com and EcoFoil.com. With strong vendor relationships from Clickstop's large e-commerce presence, JustPlasticBoxes is proud to offer high quality brand name plastic storage boxes at value prices with free delivery.