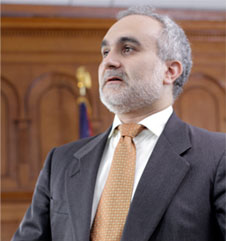 Sometimes it's forgotten that I've stood up for truck drivers my whole career.
Nashville, TN (PRWEB) June 25, 2013
In building a reputation as one of the country's foremost authorities on truck accident litigation, attorney Michael J. Leizerman of Toledo-based E.J. Leizerman & Associates has dedicated his career to highway safety advocacy. He speaks regularly at seminars on issues concerning truck accident litigation, and his three-volume treatise "Litigating Truck Accident Cases" is viewed by many as an attorney's must-read resource when preparing for a truck accident trial.
Now, you might say, Leizerman is taking his message to the streets.
Leizerman, along with colleague Joseph A. Fried, will address an audience comprised largely of truck drivers when he appears on the popular SiriusXM radio program "The Dave Nemo Show" on Wednesday, June 26. The program will air from 9:35 a.m. to 11:00 a.m. (EST) on SiriusXM Channel 128 direct from the Road Dog Radio Studios in Nashville.
"I feel honored to be invited to be on the show," said Leizerman, who frequently counsels attorneys across the country as they prepare for truck accident cases. Leizerman, who maintains the website TruckAccidents.com, said that while much of his caseload aims to hold negligent trucking companies, brokers and truck drivers accountable, he also represents truck drivers who have been injured in accidents. In fact, nearly a quarter of his clients are truck drivers who are suffering following an accident with another commercial vehicle.
Leizerman explains, "Sometimes it's forgotten that I've stood up for truck drivers my whole career. It's true that I go after negligent trucking companies and drivers. It's also true that the vast majority of truck drivers are honest people who work hard and do a good job. I've never collected a penny from a truck driver personally - it's always compensation from the insurance company or truck company when self-insured." Leizerman praises truck drivers. "Truck driving is a noble profession. Every time we, as Americans, enjoy a luxury or staple item, we should thank a truck driver. Unfortunately, like some lawyers in the legal professional, it is a minority of professional truck drivers who unfairly give the industry a bad name."
Conversation during the show is likely to be driven by questions from members of the listening audience, but Leizerman plans to address various concerns of truck drivers who've been involved in crashes. He and Fried, who last year teamed with Michigan attorney Steven M. Gursten to form the Truck Accident Attorneys Roundtable, plan to speak to the truck driver community about topics that include what to do after being injured in a collision, and whether insurance companies really have a driver's interest at heart.
"There are a lot of lawyers who call themselves 'truck accident attorneys' who have never even taken a truck accident case to trial," Leizerman said. "We have, and we've won."
"But just because we've won important truck accident cases doesn't mean we are anti-truck driver. In the end the real goal is to make all trucking companies and the roads safer for everyone - including truck drivers themselves."