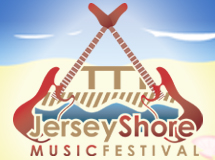 With a band like Aer headlining and the caliber of the other bands scheduled to perform, we know the event is going to be a blow out.
New York, NY (PRWEB) June 27, 2013
David von Mering and Carter Schultz, the pair who make up Aer, have just signed on to the first-ever Jersey Shore Music Festival, sponsored in part by eTalentShowcase.com, the leading online talent site. The Jersey Shore, having grown into a pop culture locale thanks to Snooki and company and the post Sandy recovery, has always been home to a bevy of musical and artistic talent. With this event, local talent will take one of the festivals' six stages to perform with more than 50 bands-that also include, Papadosio, The Hush Sound, River City Extension and The Front Bottoms—for an all ages audience in BlueClaws Stadium (Lakewood, NJ). Tickets, $25 for adults, are available at this link.
The festival, the latest addition to Aer's relentless touring schedule, gives East coast fans a long-awaited opportunity to see the Boston-based hip-hop artists. On a 48-city "Bright Side" tour, the duo has been on the road and in Europe, leaving few chances for their local fans to catch a performance. With a sound that's got roots in reggae plus flecks of acoustic pop, indie rock and hip-hop, Aer started amassing fans with its mixtapes "Water on the Moon" and "The Reach" in 2010. But their career really got a jumpstart when their first iTunes EP "What You Need" was released in October of 2011. Recorded in von Mering's basement with a performance mike and GrageBand, it hit the number-one spot on the hip-hop charts and sent the pair on a 37-city tour. In the summer of 2012, Aer released its first LP, "The Bright Side." It soared on the iTunes album charts and secured a spot on Billboard's Hot 100.
At the fest, Aer fans may be surprised by the stepped-up, polished performance. "While touring, you learn just how much more production can go into a show even when you think it's dope," Schultz told eTalentShowcase.com in a recent interview. "You can always do better," echoed von Mering. "My goal is to be able to be suspended from a ceiling," he laughed. "We'll get there."
Looking forward to the New Jersey Shore Festival, von Mering shared what he likes best about performing these days: "The best part is meeting fans who make you think, "Whoa, I could chill with these kids!" To read the full interview visit this link.
"We're proud to be a part of the first-ever New Jersey Shore Festival," said Ed Olimpio, vice president of marketing for eTalentShowcase.com. "With a band like Aer headlining and the caliber of the other bands scheduled to perform, we know the event is going to be a blow out. But we also really like that the festival features local emerging talent—after all, that's in line with our mission at eTalentShowcase.com. Aer is a phenomenal band and the event will give their fans the opportunity to discover some other great musical talent."
About eTalentShowcase.com
eTalentShowcase.com is a social media site that provides artists and entertainment industry professionals with powerful, intuitive tools to connect, promote and prosper online. The site offers job listings, free profiles, original content, contests and a base of active, engaged fans. eTalentShowcase, Where Talent Gets Discovered.