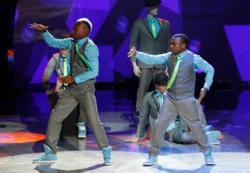 "Bluprint and Jade are absolutely AMAZING dancers and we welcome them to the Heyday Footwear family." Darin Hager - CEO Heyday Footwear
Framingham, MA (PRWEB) June 26, 2013
Heyday Footwear's Light Blue Super Shift high top sneakers were featured on two of the Top 20 dancers revealed on last Tuesday's episode of Fox's So You Think You Can Dance. Animation dancers, Dorian "Bluprint" Hector and Jade Zuberi along with 4 mannequins in outfits matching the dancers absolutely nailed their hip hop routine, choreographed by Christopher Scott. The standout routine received unanimous praise from the judges for the dancers mastery of the particular style and intricacy of the choreography.
So You Think You Can Dance's 10th season marks the third time in as many years that the design driven footwear brand, Heyday, has worked with the hit dance show's stylists on providing hot and uniquely styled high top sneakers. In previous seasons, Heyday Footwear was worn by Top 4 finalists Tadd Guaddang and Cyrus "Glitch" Spencer as well as the entire cast of the So You Think You Can Dance tour.
Heyday Footwear's Black Ninja high top sneakers are also worn by Dorian "Bluprint" Hector in his publicity photos used through out the season.