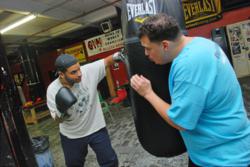 BCNY's mission is to empower boys and young men by providing effective programs and a supportive community.
New York, NY (PRWEB) June 26, 2013
This July, a summer-long boxing program hosted by the anti-obesity initiative 'Knockout Obesity," will debut at The Boys' Club of New York (BCNY), a youth development organization serving New York City's boys and young men since 1876.
Knockout Obesity was founded by Brooklyn restaurateur Dimitrios Verteouris, who lost 82lbs in three months using boxing and his own good eats. Starting July 10th, he will collaborate with BCNY to host the boxing program at Harriman Clubhouse on the Lower East Side. Dimitrios will train three groups of boys once a week for five weeks (July 10 through August 7). Each week, a professional boxer will join Dimitrios. The boxers already confirmed include Marcus Browne, Danny Jacobs, Paulie Malignaggi, Shemuel Pagan, Gary Stark Jr., and Sherif "Sugarboy" Younan Jr.
During the first week of "boxing camp," childhood obesity specialist and author, Dr. Wendy Scinta will educate the boys on proper health and nutrition. Dr. Scinta is the weight loss expert for Steve Harvey Show and former member of the White House Task Force for Childhood Obesity. She is the author of BOUNCE™, A Weight-Loss Doctor's Plan for a Happier, Healthier, and Slimmer Child.
Knockout Obesity will be a part of BCNY's Mental & Physical Health programming. Members will gain decision-making and leadership skills along with other skills associated with the program, including fitness awareness and healthy lifestyle strategies.
About The Boys' Club of New York
The Boys' Club of New York is committed to nurturing, mentoring and guiding boys and young men to prepare them to reach their fullest potential. Throughout its 137-year history of youth development, The Boys' Club of New York has combined a single-minded focus on boys and young men with a unique, multi-disciplinary approach that prepares them for a fulfilling and meaningful adulthood. The Boys' Club of New York accomplishes this through an approach that includes music and arts programs, social and recreational activities, academic support and athletics.
By introducing boys to new ideas, expanding their interests, developing their hobbies, providing a safe and nurturing environment and offering ongoing counseling and mentorship, the Boys' Club of New York helps shape boys and young men into the best men they can be.
For further information, please call Helen Frank, Communications Manager,
347-505-5416 or helen.frank(at)bcny(dot)org