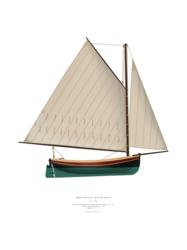 I am thrilled to be showing my work in [Onne's] gallery, as his work represents the ultimate record of present day life of the bay.
Newport, RI (PRWEB) June 25, 2013
Nautical photography gallery, Onne van der Wal Gallery, is proud to announce a special gallery opening on June 27th, featuring a new artist's yacht renderings, new limited edition prints and new colorful iPhone and iPad cases in time for summer.
The summer gallery opening will take place on Thursday, June 27th from 5-8p.m. and will introduce a new line of beautiful color prints by Ezra Smith. His work titled, "Rhode Island Working Sail," profiles renderings of beautiful working boats from the Ocean State's rich maritime history. Van der Wal is thrilled to add another line of nautical art to his successful gallery for the first time ever, and believes Smith's unique and artful pieces will be a great fit alongside Onne's colorful imagery.
"It was actually Onne's shots of the fishermen off Sakonnet Point that got me thinking about my old memories of Narragansett Bay, and ultimately led to this series," says Ezra Smith. "I am thrilled to be showing my work in his gallery, as his work represents the ultimate record of present day life of the bay."
In addition to the new prints by Smith, the gallery is also unveiling new limited edition prints; featuring Onne's recent travels to Australia and the famous J Class Regatta in St. Barth's. Some of these images, along with the "Water Series Prints," are stunningly mounted using a popular technique called Plexiglas Mount, which creates a frameless contemporary look with the photo face mounted to a thick, crystal clear Plexiglas.
The nautical photography gallery is also introducing new products for sailors, armchair sailors and tourists alike with their iPhone and iPad cases featuring colorful photos by Onne, which turn iPhones and iPads into a work of art.
Art aficionados and gallery visitors can attend the Onne van der Wal Photography on Thursday, June 27th from 5-8 p.m. at One Bannister's Wharf, Newport, RI 02840. 401-849-5556.
About Onne van der Wal Photography
Onne van der Wal has been a nautical, sailing and yacht photographer for over 20 years. Providing an in depth understanding to sailboats and yachting, in addition to his skills as a professional photographer, van der Wal brings a keen eye to each ocean photography project, who was once a professional sailor himself. In addition to his extraordinary photography projects done around the world, a gallery of his work can be found at his namesake gallery on Bannister's Wharf downtown. For more information on Onne van der Wal, his photography and his Newport Gallery, visit http://www.vanderwal.com.