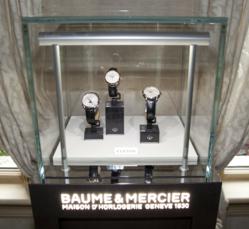 Boca Raton, FL (PRWEB) June 26, 2013
Recently, an elite group of invitees and guests were invited on June 6th to be present at the reveal of a new line of luxury accommodations and products. Hosted at the Royal Palm Yacht and Country Club, this event showcased the debut of a new line design collaboration with actress Emmanuelle Chriqui; famously known for her role as "Sloan" from the hit series "Entourage."
On-hand was the established brand of Ferretti Yachts. Ferretti Yachts division was created n September 2002, a historic brand of the group, production and marketing fibreglass fly bridge boats from 47 to 88 feet.
The strategy of expansion and growth focuses on the evolution of the products and on technological innovation and design of new boats, from here come the introduction of the ARG system, developed with Mitsubishi, and the large open-view window of the ship owner's cabin in almost all models in the range.
Also unveiled was the new 42' luxury craft by Riva, from the famous Bellini family of Italy. Also featured was the new line of the Clifton Collection from Baume et Mercier, whose style and time-keeping accuracy and quality are known the world over. From the beginning, the objective of the "Frères Baume" company was to make high-quality traditional watches enriched by various technological breakthroughs of the era. The Baume family was equally innovative commercially, when one of the two brothers, Joseph-Célestin, set up a branch in London named "Baume Brothers".
This was an exclusive event where invitees were treated to cocktails, and special guests were hosted at a private dinner.
"We are fortunate to be associated with these respected companies, the most revered in their industry. This collaboration of ultra-luxury brands exposes our Estate Portfolio to the most affluent clientele," states Gerard P. Liguori, Broker/Owner, of Premier Estate Properties.
Premier Estate Properties is South Florida's only real estate brokerage devoted solely to the high-end market, providing performance that is unparalleled and unprecedented, remaining true to a total commitment to platinum service, and dedicated to marketing our world renowned Estate Portfolio. The company chose to concentrate solely on selling the most important estates to a privileged clientele, enabling them to match the personal preferences of discerning buyers to the perfect estate property, and the reason why so many of their present buyers and sellers are referrals from satisfied past clients.
Premier Estate Properties is a private high-end real estate company specializing in the marketing and selling of properties solely in excess of one million dollars. Worldwide affiliates include Christie's International Real Estate, Luxury Portfolio International, Mayfair International Realty, FIABCI International Real Estate Federation, Leading Real Estate Companies of The World, Who's Who In Luxury Real Estate and Board of Regents. For further information on Premier Estate Properties' real estate services, please call 561.394.7700, visit our Old Boca Raton Office, 800 East Palmetto Park Road, Boca Raton, Florida or tour http://www.premierestateproperties.com.