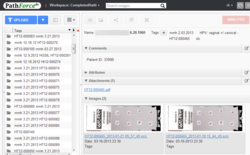 This project shows that this technology can deliver on the promise of Digital Pathology to enable productive collaborative diagnostic services for patients anywhere in the world
Houston, TX (PRWEB) June 25, 2013
PathForceDx, an international pathology consultation network has successfully completed a pilot diagnostic project with Ural Oncology Center in Yekaterinburg, Russia. Ural Oncology Center is one of the 4 regional cancer care centers located in the central part of Russia. The remote diagnostic process was completed using digital slides on Simagis Live Web Pathology servers and involved pathologists of different specialties at multiple locations across US and Russia.
"Our very first case from Russia was extraordinarily challenging, as it was a relatively rare tumor with features that overlapped several types of soft tissue malignancies. Consultation by several experts in these types of tumors was essential to rendering the diagnostic opinion and directing appropriate therapy for this patient. Technically, the case contained 11 digital slides stained with 10 IHC biomarkers which comprised over 12 GB of data" reported Dr. Gregory S. Henderson, the founder and president of PathForceDx. "Five of our expert pathologists reviewed the digital slides at five different locations and were able to offer a narrow differential diagnosis and suggest appropriate follow up studies. We were able to share slides, review findings and compile a final report in less than a week for this patient 12 time zones away", he added.
"It was a challenging test and important validation for our technology" said Vitali Khvatkov, founder and CEO of Smart Imaging Technologies – the company behind Simagis Live Platform. "Simagis Live servers are designed to support remote distributed diagnostic processes where scanners may be located on the other side of the globe. This project shows that this technology can deliver on the promise of Digital Pathology to enable productive collaborative diagnostic services for patients anywhere in the world", he added.
About PathForceDx
PathForceDx is the first global digital pathology network of pathologists who are both experts in their subspecialty and in rendering diagnoses via digital pathology. These expert pathologists have been providing digital diagnostic services to Haiti for 2 years and have emerging projects in the Middle East and now in Russia. PathForceDx (http://www.pathforcedx.com) also provides a suite of innovative software services designed to make digital pathology a turnkey experience for pathologists and secure cloud-based data storage solutions for patient diagnostic information.
About Smart Imaging Technologies
Smart Imaging Technologies provides digital slide management software, whole slide image analysis applications and cloud hosting services that make Digital Pathology affordable for labs of any size. With these products, users can easily manage, view, annotate, share and analyze digital slides from any web browser. Smart Imaging Technologies' products can be custom branded and deployed on-premises or in the cloud to deliver unified solutions across geographic boundaries. For details about technology and solutions manufacturers and integrators, contact support(at)simagis(dot)us . End users can learn more about technology and sign-up for free web service at http://web-pathology.net