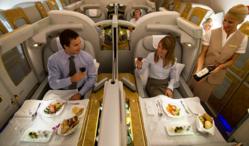 Travel to Europe, Australia and East Asia has been especially robust these past twelve months.
San Francisco, CA (PRWEB) June 25, 2013
Premium air travel website FlyInfinite.com has seen its business volume increase twenty percent in the current business quarter, according to a company spokesperson. This marks the sixth quarter in a row that the seller of discounted first class and business class air tickets has reported a double-digit gain.
Total visits to the popular website are also up for the year to date, according to FlyInfinite.
"Travel to Europe, Australia and East Asia has been especially robust these past twelve months," notes Jim Savitskiy, the company's director. "More premium seats are being booked and fewer cancellations are occurring—especially with our business class passengers. It all suggests a steadily improving global economy."
Airline industry figures likewise show rising passenger traffic across the Atlantic and Pacific to European and Pacific Rim destinations.
"Plush seats, five-star cuisine and white-glove service at prices well below those advertised by the airlines are what attract our clients," says Savitskiy. "Premium class travelers realize that airlines are interested in filling first and business class seats. Full-fare pricing is regularly being discounted, even to many popular European destinations."
But discounting is largely done through specialist websites such as his, he notes.
In business since 2010, FlyInfinite quickly found its niche in an affluent demographic, according to Savitskiy. "The market for luxurious travel is remarkably stable. What's really changing is the surge in business travel—due to healthier levels of worldwide business activity."
This has resulted in a greater willingness by airlines to entice more travelers out of economy seats and into premium class service, he adds. "Airlines know that heavy discounting can get distance travelers to upgrade; passengers and airlines both benefit from this."
For more information on FlyInfinite.com and its discounted premium air tickets visit them online or phone 1-800-FLY-2515.