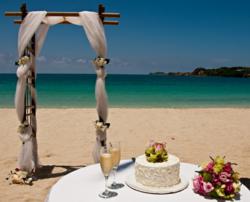 I find that brides and grooms who choose a Caribbean destination wedding are more focused on the environment than on the remaining details.
Delray Beach, FL (PRWEB) June 26, 2013
"The Caribbean is a hotspot for weddings," says Aviva Samuels, founder of Kiss the Planner. Samuels, who specializes in destination wedding planning and honeymoon planning for couples, recommends traveling past the traditional go-to spots such as Jamaica and the Bahamas and aiming for something a little different.
Destination weddings and honeymoons are on the rise, according to a recent study done by the XO Group, Inc. Studies show that 350,000 destination weddings take place annually, representing 24% of all weddings. That number is expected to increase this year. The Caribbean, Mexico and Hawaii were listed as the top three destination sites outside the continental U.S.
"Couples want a place that's easy to travel to and have fun," says Samuels. "It's a time for celebration. It shouldn't be stressful." Increased requests to book Caribbean weddings and honeymoons are attributed to the rising trend of smaller ceremonies, a budget savvy culture, an improving economy, and the desire to do something different.
From lush, tropical cliffs to miles-long pink sand beaches, Kiss the Planner, based in Delray Beach, Florida, knows how to navigate the islands to create an intimate Caribbean wedding or honeymoon.
Before booking the plane tickets, a couple planning to get married in the Caribbean must first consider and identify their needs: the setting, ceremony design, cocktail and dinner reception design, video and photography services, music, food, beverages, transportation, wedding cake, decorations, rehearsal dinner and morning-after event planning.
"With a vision of what you have in mind, and a list of the elements that are most important to you, you'll be able to research the various destinations through that filter, and as a result, find the wedding destination that suits you best," says the Palm Beach wedding planner. "I find that brides and grooms who choose a Caribbean destination wedding are more focused on the environment than on the remaining details. Local flavors, flowers and music just enhance the already special experience that the destination bride and groom seek to get. Since the trip can function as both a wedding and honeymoon in one, it becomes so much more. If a change of scenery is preferred, many of the islands in the Caribbean offer a quick ride over to a nearby island to make the honeymoon stand out from the wedding."
Samuels spotlights three hot Caribbean destinations for weddings and honeymoons in 2013:
Saint Lucia:
Saint Lucia received the "World's Leading Honeymoon Destination" award for 2002, 2003, 2004, 2006, 2007, 2008, 2009 and 2010, as well as "Caribbean's Leading Honeymoon Destination" for 2011 and 2012.
Wedding guests will love the Piton Mountains as a stunning backdrop for a wedding ceremony, or one of the botanical gardens. There are two main towns on the island: Castries to the north, the island's capital, and Soufriere, a small seaside town located at the foot of the spectacular Piton Mountains.
In Saint Lucia, Samuels highly recommends Sandals Grande Saint Lucian Spa & Beach Resort or Anse Chastanet Resort for both weddings and honeymoons.
Antigua:
Antigua is the largest of the English-speaking Leeward Islands, and has been named the best island for a destination wedding for the past two years. It encompasses approximately 108 square miles. With a coastline of coves and traditional harbors, warm, steady winds, and an unique wall of coral reef, Antigua is rich for exploration. Between Antigua and Barbuda, the destinations claim 365 white and pink sand beaches.
Samuels suggests Sandals Antigua Resort and Spa, Carlisle Bay Hotel, The Verandah and St. James' Club and Villas for wedding parties.
Palm Island (The Grenadines):
Known as the "Jewels of the Caribbean," this necklace of thirty-two islands and cays, including Palm Island, are located 1,600 miles away from Miami, Florida in the Eastern Caribbean.
"Palm Island is unique," Samuels says. "Unlike other Caribbean destinations, the island is a private resort." With five different white-sand beaches and accommodations spaciously designed with seclusion in mind, brides and grooms can access a variety of locations around the island to customize their nuptials.
Couples seeking more advice about destination weddings and honeymoons can contact Aviva Samuels for brainstorming services, partial or full-service destination event planning at: http://kisstheplanner.com.
About Aviva Samuels
Florida wedding planner Aviva Samuels of Kiss the Planner is available to speak with the media about wedding planning, destination weddings, wedding design trends, and more. The Palm Beach company offers an array of wedding services, including destination event design, planning and coordination. For more information on Kiss the Planner or to contact Aviva Samuels, go to: http://kisstheplanner.com