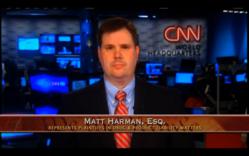 The Supreme Court's opinion today in Mutual Pharmaceutical Co. v. Bartlett is an unsurprising extension of the already vast protection the pharmaceutical industry enjoyed from accountability for its actions
Atlanta, GA (PRWEB) June 24, 2013
Today the U.S. Supreme Court handed down another five to four decision in matters dealing with consumer protection, healthcare and prescription drugs.
"The pharmaceutical industry has used the FDA, and the laws that have created the FDA, to prevent injured plaintiffs from getting their day in court" said Attorney Matt Harman of Harman Law LLC on The American Law Journal Television program. "The Supreme Court's opinion today in Mutual Pharmaceutical Co. v. Bartlett is an unsurprising extension of the already vast protection the pharmaceutical industry enjoyed from accountability for its actions."
In 2004, Karen Bartlett was prescribed Sulindac, a generic anti-inflammatory drug manufactured by Mutual Pharmaceutical company for shoulder pain. She claimed she suffered a reaction, which caused a rare, life-threatening skin condition causing open wounds over 60 percent of her skin. As a result, she suffered permanent and serious injuries, including near-blindness, according to facts in the case as published by Oyez, the Supreme Court Project of the Chicago-Kent College of Law. A New Hampshire court awarded Ms. Bartlett $21 million, which was later affirmed by a Boston-based appeals court.
According to an article published online today by The Wall Street Journal just after the opinion was released "an ideologically divided U.S. Supreme Court further limited the rights of consumers to bring product-liability lawsuits against generic-drug makers."
Writing for the majority in the opinion, Justice Samuel Alito said "the case arose out of tragic circumstances, but sympathy for Ms. Bartlett does not relieve us of the responsibility of following the law." In her dissent, Justice Sonia Sotomayor joined by Justice Ruth Bader Ginsburg countered "the court has left a seriously injured consumer without any remedy."
The decision follows a five to four 2011 Supreme Court ruling, Pliva v. Mensing, that shields generic-drug makers from lawsuits alleging inadequate labeling. The latest case involved a different type of product-liability claim, based on allegations that the drug was unreasonably dangerous and therefore designed defectively.
"Bartlett is yet another in a series of dramatic expansions of preemption protection for drug and medical device manufacturers" says Harman in an interview with The American Law Journal. "The time has come for Congress to re-evaluate the protections given to generic drug manufacturers.  And they better do it now.  As a result of today's opinion, there will be more Karen Bartletts to come." 
About Matt Harman, Esq., Harman Law LLC
Matt Harman is a former corporate defense attorney with King & Spalding who represented pharmaceutical companies in drug litigation. Based in Atlanta, he is now been representing plaintiffs injured by drugs and medical devices nationwide as the founding partner of Harman Law LLC.
Attorney Harman appeared on The American Law Journal television program commenting on drug safety and the U.S. Food and Drug Administration. The program aired on June 16, 2013 on the CNN news affiliate WFMZ-TV to the Philadelphia tri-state metro and is available on http://www.YouTube.com/LawJournalTV.
Cases:
MUTUAL PHARMACEUTICAL CO., INC. v. BARTLETT, S.Ct. Docket No. 12-142 (decided June 24, 2013, reporter cite not yet announced)
PLIVA, INC., ET AL. v. MENSING, 131 S.Ct. 2567 (2011)