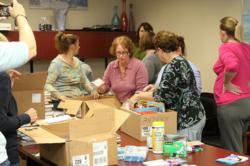 We hope this small token will help Seaside Heights members rebuild and restock their classrooms for September.
Washington Twp, NJ (PRWEB) June 25, 2013
WTEA President Camy Kobylinski met members of the Seaside Heights Education Association while attending a statewide NJEA meeting on connecting NJEA local unions and school districts in need. Kobylinski had the chance to hear first-hand the massive destruction Hurricane Sandy caused members of the Seaside Heights community and knew right away that Washington Twp. union members would want to do something to help the students and staff.
WTSSSPA president, Carl Haines said, "I am so grateful that the members of the Washington Twp. Schools Support Services Personnel Association could be part of the efforts to help bring back some normalcy to our colleagues in Seaside Heights and the students there. The paraprofessionals, custodians, maintenance workers and bus drivers of our union wanted to ensure they could do something to be part of the Sandy recovery efforts. We hope this small token will help Seaside Heights members rebuild and restock their classrooms for September."
Haines and Kobylinski pointed out that their fundraiser would not have been possible without the efforts of Lynn Cianci, a Washington Twp. District cafeteria worker and WTSSSPA union member, Fran Ingram also a WTSSSPA member and Shelia Pierce and Ann Marie Askin, Washington Twp. District secretaries and WTEA members that organized the event. They also stated that a portion of the funds were raised by Seaside Heights union members themselves through the baskets they donated as part of the fundraiser and help from NJEA. Kobylinski, stated, "We are so happy to be able to provide this relief, on behalf of the WTEA and our community we hope this will go a long way to help make the transition back to classrooms in September."
Seaside Heights Education Association co-president Kathy Ruprecht said, "The members of NJEA have been incredibly generous in helping meet the needs of our students and staff after the storm. Our needs were great. WTEA and WTSSSPA went above and beyond in supporting our school and staff. They got involved on a personal level. They called to see what they could do to help. When they learned of all we lost, they wanted to do more to help us. They hosted a fundraiser to benefit our school community. They sent tickets for our staff to attend. What a great night! Seaside Heights staff left that evening with some great prizes and promises from the Washington Township staff to help us put our classrooms together this summer. Thank you Washington Township members for your help, support and caring."