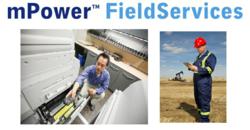 Innovapptive designed a solution based on their mAsset Tag app that not only tracks inventory for all their products, but also provides a real-time listing of the exact location of assets.
Houston, TX (PRWEB) June 25, 2013
Innovapptive Inc., an SAP Certified partner specializing in Enterprise Mobility solutions, announced the deployment of it's SAP Certified mAssetTag Mobile App to a leading North America Telecom provider to better manage their field operations. The SAP Certified mAssetTag Mobile App is commercially available in SAP and Apple Stores and is built to simplify the process of physical asset inventory through a mobile devices bar-code scanning and geo-coding capability. The capabilities of this app will now be leveraged by the telecom provider's field service personnel to efficiently manage the frequent movement of their assets from a field location to a customer location. Innovapptive is enhancing the capabilities of this SAP Certified Mobile app to meet the customer's field services business requirements.
The telecom provider reached out to Innovapptive to identify a simple and cost-effective solution to keep track of their huge inventory of assets that frequently moved between several field personnel and customer locations. Innovapptive quickly came up with a solution based on their mAssetTag app that not only tracks inventory for all their products, but also provides a real-time listing of the exact location of assets, which simplified the logistics involved in moving the assets to multiple locations. The enhanced version of the mAssetTag App will add tremendous value proposition to the Telecom provider by simplifying the process of tracking field assets and equipment.
Keeping in line with its core principle of building high-quality user interfaces, the app will be made available in native format for the iOS platforms. Field service technicians, engineers and sales personnel with a smartphone will be able to use this app to scan the assets in their possession. The scanned information will be sent real-time to the database that will provide effective real-time geographic details of the location of the assets. The mobile app provides a simple, yet effective solution, to increase visibility of these assets and ensures a timely movement from the field or a customer location.
This app marks Innovapptive's foray into integrating mobility with a non-SAP backend system, once again proving the flexibility in its app building methodology. "So far all our apps have been built for the SAP platform. This Field Service mobile app marks our first venture into a non-SAP backend system and into the field services domain" said Sundeep V. Ravande, President and Co-founder. "Inspired by this field services opportunity, Innovapptive also launched its mPower™ Field Services Mobile Apps Suite to drive higher productivity and profitability for field service management.
In the coming months Innovapptive will expand its mPower™ Field Services App suite by building apps for Oil and Gas, manufacturing, consumer packaged goods, Utilities and pharmaceutical industries. Innovapptive will continue to release several of these innovative and transformative SAP certified mobile apps, which is in line with their vision to build a pre-packaged suite of SAP certified mobile applications that can be rapidly deployed on-premise or on the cloud. The full list of apps to be released in the coming weeks can be found on our website at http://www.innovapptive.com. For more information regarding Innovapptive's SAP Certified or custom apps or for an opportunity to sign up for a 30 day free trial to test drive its apps, please call (713)-300-3762 or contact Innovapptive directly at info(at)innovapptive(dot)com.
About Innovapptive
Innovapptive Inc. is an SAP Certified partner specializing in several SAP Modules and SAP Mobility - development, consulting and staffing. Innovapptive provides a wide range of SAP product engineering and consulting services in SAP Mobile Apps, SAP MM, SAP SRM, E-Sourcing/CLM, SAP BI, SAP HANA and SAP FICO. Innovapptive's team of SAP professionals focuses on placing customers in the forefront by offering them game changing end-to-end solutions to maximize their ROI.