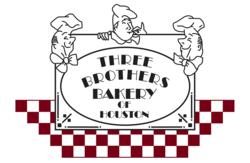 I am excited to be able to give back to a hospital that gave me so much – literally my life – plus there's no better feeling than bringing joy to a child.
Houston, Texas (PRWEB) June 25, 2013
Three Brothers Bakery, a local bakery committed to supporting the Houston community's cancer research and fundraising initiatives, proudly announced it will be featuring products from MD Anderson Cancer Center Children's Art Project in its Braeswood store. The Children's Art Project funds multiple programs benefiting the pediatric patients of the Children's Cancer Hospital at MD Anderson Cancer Center.
The University of Texas MD Anderson Cancer Center Children's Art Project (CAP) was founded in 1973 with a volunteer's idea to create a Christmas card from a patient's artwork she had noticed while volunteering. Today, CAP has contributed more than $30 million to fund patient-focused programs at MD Anderson. Through the sale of merchandise featuring designs created by young cancer patients, the project funds programs such as Child Life, the in-hospital education program, summer camps, college scholarships, a rehabilitation ski trip, field trips and much more for patients and their families.
Dedication to this organization and others like it in the Houston area stems from bakery owner, Janice Jucker's own experience with breast cancer. A former patient of MD Anderson - this year marks the end of six years of remission for the breast cancer survivor and bakery co-owner.
Janice and the bakery's involvement in this project, in particular, stemmed from an already established relationship with the hospital. The bakery recently created a massive cake featuring the children's artwork and celebrated the themes of the redesign and expansion of the new and improved MD Anderson Children's Cancer Hospital. The cake, a centerpiece at the employee and patient celebration, served as the introduction for CAP as the newest product line sold at Three Brothers Bakery.
"As a small business, our family feels passionately about giving to our community all year long," Janice Jucker, one of the bakery's owners, said. "We have a very generous customer base and I know that they will love the Children's Art Project products. On a personal level, I am excited to be able to give back to a hospital that gave me so much – literally my life – plus there's no better feeling than bringing joy to a child."
For more information surrounding Three Brothers Bakery, their involvement in the MD Anderson Cancer Center Children's Art Project and the products they sell or to learn more about how the bakery continues to serve the Houston community, please contact Jenny Selber at 713-416-7280 or jenny(at)integratepr(dot)com.
About Three Brothers Bakery
The traditions of Three Brothers Bakery began in Chrzanow, Poland circa 1825, and continued to thrive despite the family's concentration camp imprisonment during the Holocaust. Their miraculous liberation, and subsequent move to Houston, brought Eastern European scratch baking traditions to 4036 S. Braeswood Blvd and 12393 Kingsride Lane, where the owners are now proud to call themselves "memory makers who just happen to be bakers." Perfecting the process for almost 200 years, each day the fifth generation bakers produce mostly dairy-free breads and pastries, cookies, a full line of specialty dessert cakes and pies, as well as custom birthday, special occasion, wedding and groom's cakes using only the highest quality ingredients.
The Three Brothers Bakery pecan pie was named "the best mail order pecan pie America has to offer" by Country Living magazine, and most recently, bakery owner, Bobby Jucker competed in the popular 'Food Network Challenge' and has been seen on Food Network's Outrageous Food. Three Brothers Bakery is a certified Woman-Owned Business through Women's Business Enterprise National Council, and a State of Texas Historically Underutilized Business.
Follow Three Brothers Bakery on Facebook and Twitter for Houston area news, information and events.
###