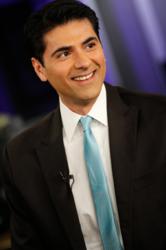 We already can do blood pressure and blood sugar monitoring. The issues are security.
Beverly Hills, CA (PRWEB) June 25, 2013
Appearing every Monday on Fox's Good Day LA, Sonu Ahluwalia, MD, answers questions about new developments in the medical field. This week, Dr. Ahluwalia spoke about the American Medical Association's decision to label obesity a disease.
While acknowledging that the change would likely spur increased awareness and funding for fighting obesity, Dr. Ahluwalia questioned the choice to categorize a large number of Americans as ill.
"The downside is that obesity, a lot of the time, is a lifestyle and exercise disease," said Dr. Ahluwalia. "Now we're taking the incentive away and saying, 'Oh, you have a disease; you can't control this.'"
The La Peer surgeon also suggested that body mass index may not be the most accurate means of determining whether a patient is obese.
"Body mass index is your weight in kilograms divided by your height in meters squared," said Dr. Ahluwalia. "The issue is that the BMI is not very reliable…it can't differentiate between fat and lean mass."
According to the orthopedic surgeon, many athletes could be categorized as obese even though their greater weight actually stems from muscle. Despite these issues with the new policy, Dr. Ahluwalia believes that the AMA's decision will help bring attention to an important issue.
"I think it's important to focus on the fact that we as a country are getting more and more obese," said Dr. Ahluwalia.
The surgeon also spoke about new developments regarding medical apps for tablets.
"We already can do blood pressure and blood sugar monitoring. The issues are security," said Dr. Ahluwalia.
He went on to say that the FDA will now be monitoring and regulating many medical apps.
Watch the entire news segment with Dr. Ahluwalia on My Fox LA.
For more health tips from Dr. Ahluwalia, as well as videos of his other FoxLA segments, visit his Facebook page.
Sonu Ahluwalia, MD, is an internationally acclaimed board-certified orthopedic surgeon at La Peer Health Systems, as well as the Clinical Chief of Orthopaedic Surgery at Cedars Sinai Medical Center in Beverly Hills. His private practice specializes in sports medicine, shoulder, knee and hip surgery.
Dr. Ahluwalia completed his orthopedic training at the Harvard Combined Orthopaedic Surgery Residency Program in Boston, one of the most sought after training programs in orthopaedic surgery. He has completed three fellowships, two at Harvard Medical School and one at Lenox Hill Hospital in New York City, on shoulder surgery, sports medicine, and joint replacement and joint preservation surgery. For more information please call 310.659.2910 or visit http://www.Ahluwalia.org.