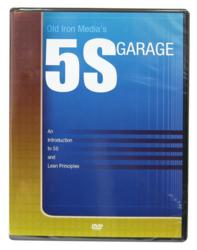 "5S Garage DVD is a great tool for training employees about 5S and its methods. We received great results with organization since using this training tool."
Lake Oswego, OR (PRWEB) June 26, 2013
Understanding 5S and lean principles has now become easier by simply viewing a 20 minute video. Creative Safety Supply is now offering the 5S Garage DVD as an informative and entertaining 20 minute guided tour of the 5S process. The purpose of this video is to provide the perspective necessary for employees, from production workers to executive staff, the ability to understand the 5S system. When employees understand and are on board with 5S, it's easier to implement a 5S program and create a visual workplace. The video will provide methods that can be applied to an employee's work contributing to a more organized and lean facility. In 5s Garage, the viewers are taken through each of the five steps in the 5S process, identifying and removing the eight wastes in the 5S process along the way.
The 20 minute video is taped in a household garage, making it easy for everyone to relate. Besides creating an understanding of the 5S process and recognizing and eliminating the eight wastes for waste reduction, it explains how to reduce setup times with point of use concepts. It will also introduce visual controls that one can use to create a visual workplace.
Often employees will lose perspective and begin to focus only on the cleaning aspects of 5S. However, the 5S process is more than simply sweeping the floors. It's really about creating a visual workplace that can be understood by anyone, from new employees to long term employees. This video will help employees understand the difference, making the implementation process go smoothly.
A training supervisor commented, "5S Garage DVD is a great tool for training employees about 5S and its methods. We received great results with organization since using this training tool."
For more information about 5S Garage DVD, please visit Creative Safety Supply or call toll-free (866)777-1360 to speak with a professional representative.