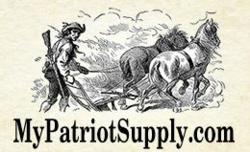 Muncie, Indiana (PRWEB) June 25, 2013
The success of MyPatriotSupply.com has highlighted the demand for emergency preparedness and self-reliance assets among the American public, resulting in the opening of the first ever store of its kind. The Patriot Supply Store's grand opening will be on July 4, 2013, in Muncie, Indiana and will offer customers even more options with its expansive selection of products.
Due to recent events such as Hurricane Sandy on the Eastern seaboard and the destruction caused by tornados in Missouri and Oklahoma, the demand for materials and knowledge needed to survive disaster has risen exponentially. These tragic events, among others, have highlighted the need and importance for every American to be able to fend for him or herself, and their families, in times of crisis.
Specializing in heirloom seeds, camping, survival, self-reliance, and emergency preparedness, Patriot Supply Store has everything needed to prepare for – and survive – anything from natural disasters to the collapse of civilized society.
Patriot Supply store features a full range of non-GMO (genetically modified organisms), non-hybrid heirloom seeds to grow vegetables, herbs (culinary and medicinal), flowers, and more. The new store will provide top-quality camping and survival gear, including heating & cooking supplies, portable light generators, water purification systems, ready-to-eat non-perishable meals, educational materials, and other resources to strengthen one's camping and survival skill set, giving them an edge over mother nature and those less prepared.
With the ideals of self-reliance as the centerpiece of Patriot Supply Store, a plethora of homesteading items are available for those returning to the basics of living and survival. Emergency preparedness requires an adherence to and understanding of self-reliance, and products such as solar & hand cranked emergency devices, solar rechargers, and educational materials that help individuals plan for the worst of scenarios.
The Patriot Supply Store will carry items such as solar powered & hand cranked flashlights, radios, generators, fire starting supplies, and heating & cooking equipment to help families and individuals survive some of the most extreme natural disasters. Water and food storage has proven exceptionally critical for those affected by natural disaster, and Patriot Supply Store carries a full line of home canning equipment, food storage containers, and water treatment equipment so that those in disaster prone areas can be prepared and equipped to care for their families, children, elders, and neighbors.
Having a physical location in conjunction with an online storefront provides many advantages for customers looking for emergency preparedness supplies; for example, customers can examine the products in person. Of course, for those who cannot make it to the new physical location, MyPatriotSupply.com will continue to expand its online offerings, and provide free shipping and hassle-free returns to its customers across the nation.