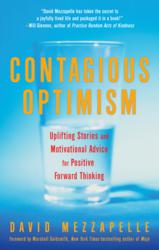 Readers are sure to find something to connect with."

—Publishers Weekly
(PRWEB) June 25, 2013
Beginning June 26, optimistic entrepreneur David Mezzapelle will begin touring the Bay Area with his message of persistent hope, strength, and positivity. Mezzapelle's tour celebrates the release of Contagious Optimism: Uplifting Stories and Motivational Advice for Positive Forward Thinking, a fusion of self-help, psychology, and personal essays. Mezzapelle will present at top bookstores around the bay, sharing his stories and sage advice.
Contagious Optimism, already a best-seller and also available as an audiobook, is a collection of personal success stories and advice that discusses the power of positive thinking. Mezzapelle urges readers to find the silver lining in every cloud, despite trials such as personal hardship, economic downturns, and political uncertainties. Developed by the same team that wrote the bestselling Random Acts of Kindness, Contagious Optimism is written to lift hearts, open minds, and create a movement of pass-it-on hope and happiness. Contributors include Dan Tully, CEO of Merrill Lynch, Ricky Wade of McDonalds, Michael Beckwith of Agape Church, Nancy Ferrari of KNOC Radio, and visionary business leader Marshall Goldsmith
"No matter how difficult or easy your life may be at any given moment, it is possible to experience meaning and happiness. Read Contagious Optimism for yourself. Read it for your teams at work. Read it for your family. It will help you improve your life, your outlook, and your behavior."
-Marshall Goldsmith
East West Mountain View - June 26, 2013
Barnes and Noble San Jose- June 27, 2013
Towne Center Books, Pleasanton - June 28, 2013
Books Inc, Alameda - June 28, 2013
Book Passage Marin - June 29, 2013