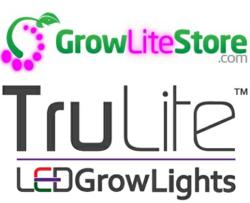 Supplying all indoor growers of fruits, vegetables, and cannabis. Shipping is quick and discreet to protect your privacy.
Atlanta, GA (PRWEB) June 25, 2013
TruLite LED is proud to announce that their entire line of LED grow lights are available for purchase from online retailer Grow-Lite-Store.com.
All products bought through this online outlet will carry the same three-year warranty and 90-day guarantee that they would receive if buying directly through TruLite LED.
Grow-Lite-Store.com has been in the LED grow light business for over three years and is known to sell only the best, most trusted brands in the industry and TruLite LED is no exception. Buying through the Grow-Lite-Store.com may offer customers the opportunity to take advantage of discounts and free shipping through their "Lowest Price Guarantee" policy. Buyers may shop with confidence with their safe and secure encrypted checkout procedure. Shipping is always quick and discreet to protect your privacy.
TruLite LED is becoming well-known in the industry for advancements such as TruBand™ Technology and for saving small and large scale growers in excess of 35% on electricity. Customers also report robust growth, healthier plants, and quicker cycle times using TruLite's products.
To learn more about TruLite's products, call 1-800-850-5131 or visit http://www.truliteled.com. You can also view TruLite's offerings by visiting Grow-Lite-Store.com.