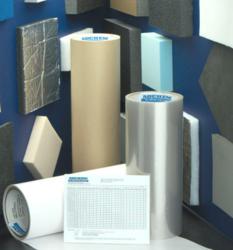 Riverhead, NY (PRWEB) June 27, 2013
Adchem Corporation has added 2 new bonding studies covering nine (9) adhesive tape systems for several compounds of rubber materials manufactured by BRP and in a second study, twenty (20) adhesive tapes bonded to Armacell low sulfur pure EPDM closed cell foam and high-density neoprene-based technical foam.
The study of BRP products included Buna "N", Neoprene, VITON® rubber sheet, EPDM Nylon inserted Neoprene products at varying durometer levels. BRP is a manufacturer of sheet and extruded rubber products for thousands of military, automotive, transportation, aerospace, and industrial customers. Founded in 1914, BRP is one of America's leading manufacturers of sheet rubber and extruded rubber products.
The Armacell study reports on adhesive tapes bonded to Armacell (Monarch®) #8082, a low sulfur, pure EPDM closed cell foam used in highly-sensitive automotive and electronics applications and Armacell (Monarch®) #2003, a high-density neoprene-based technical foam. The material was developed for applications requiring not only the fine-cell surface typical for block foams, but also high tensile and tear strength and low compression set. The closed-cell Monarch foams are used for gaskets in the automotive industry and other sectors and for expansion joints in the construction industry. The 2003 product was launched in the USA in November.
The new studies, available at http://www.Adchem.com/bonding studies show a variety of Adchem's high-performance PSA's including double-sided and unsupported tape constructions in several adhesive formulations offering viable solutions for components using the Armacell and BRP materials. The bonding studies were conducted at both room temperature and after aging at elevated temperatures and demonstrates the importance of matching the correct pressure-sensitive product to specific grades of similar materials. The study also demonstrates the importance of aging and its effect on performance after 3 days at modest temperature exposures.
All Adchem's double-sided, single-coated and unsupported adhesive tape systems are REACH compliant. The company's products are supported by advanced engineering capabilities guiding engineers to more than 200 different product constructions in over 50 different adhesive systems meeting the most demanding industrial and consumer applications.
About Adchem Corporation
Adchem is ISO 9001-2008 certified with extensive A2LA laboratory process accreditations. The nearly 50 year old company engineers and manufactures pressure-sensitive adhesive tape systems, including double-sided papers, films, tissues, foams and fabrics; transfer tapes; one-side coated products and other custom-coated specialty products. 100% solids adhesives, solvent and water based acrylics and rubber adhesives are used in a variety of industries, including automotive, construction, electronics, graphic arts, medical, transportation and general industrial tape applications. Adchem recently announced its certification under the newly established Responsible Tape Manufacturer (RTM) program of the Pressure Sensitive
Tape Council (PSTC).
For additional information please contact Adchem Corporation, 1852 Old Country Road, Riverhead, NY 11901 Phone: (631) 727-6000 Fax: (631) 727-6010 or our website at http://www.adchem.com.