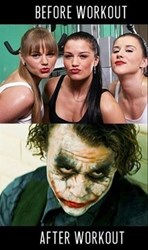 Now I can go straight from the gym to the office!
(PRWEB) June 29, 2013
All women can agree that wearing makeup to the gym is a big no no. Women start the day off with a full face of makeup, get to the gym after work and end up with a face looking similar to a circus clown. In an ideal world, women would have time to shower, fix their hair and apply some makeup. Unfortunately, it's the real world and time doesn't stop to pencil in a shower. As a substitute to skipping the work out altogether to get a few extra primping minutes, consider TheBeautyPlace.com quick fixes after the gym.
First, before the workout begins always put hair up, preferably using a hair tie that is not going to leave a dent in the hair, like a throw back 1990's scrunchy. If hair is up it's less likely to fall on the neck and soak in the sweat that resides there.
Post workout; blot the neck with a towel so it's completely dry when the hair comes down. Next apply a hair refreshing powder product like Blow Pros Powder Dry Shampoo. Powder products help to decrease moisture and oil, keeping hair looking and smelling great until it's time to shower later on.
Bring disposable body/face wipes. These wipes remove excess oil from the skin allowing the face to start with a blank canvas. Bring a bright coral lipstick like, TIGI Cosmetics Splendor, so it can serve as a cheek/lip duo in order to add some color to the face. Dab an under eye concelear and apply some mascara to open up the eyes! Now there is really no excuse to hit the gym!