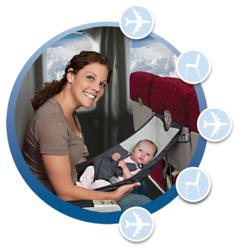 Try to ignore any rude looks and comments from other passengers
Milford, CT (PRWEB) June 26, 2013
As any parent on the go knows, traveling with a baby can be more than a handful. The makers of FlyeBaby, the infant hammock to use during the cruise portion of a flight, are offering up tips to make the most of your travel time.
Here are FlyeBaby's tips for traveling with an infant this summer:

Think about timing when you book your flight; if at all possible book flights during nap times or the evening so your baby will sleep during the flight.
Pack a carry-on bag with everything you need for the baby for the duration of the flight that you can keep within easy reach. Must-haves include: snacks for the whole family, extra clothes, diapers, wipes, blankets, plastic bags for dirty things and items to entertain the baby.
If you have a traveling partner have them board the plane first. They can stow carry-ons, and get everything settled without holding the baby. This also reduces the amount of time the baby is actually on the plane. When the flight is over, let everyone else get off the plane first and take your time, it will make disembarking much less stressful.
Nursing, bottle feeding or even sucking on a pacifier can help relieve ear pressure during take-off and landing. If possible, start the feeding before it's a problem.
Don't sweat it! Your baby may cry on the flight. Try to ignore any rude looks and comments from other passengers and do the best you can.
It's also best to think about the length of the trip and how everyone will remain comfortable. Most people can't afford an extra seat for an infant, but the FlyeBaby allows caregivers to be hands-free and have eye contact with the child throughout the cruise portion of the flights.
FlyeBaby is a hammock-type seat that can be used on an airplane during the cruise portion of the flight as a comfortable and convenient place to put your baby. It can also attach to most dining room chairs to serve as a portable high chair. FlyeBaby allows for face to face interaction between you and your little one, and makes for a stress free flight during nap and play time. Learn more at http://www.flyebaby.com.
About Us
SCS Direct was founded in 1998 to develop innovative products for consumers in the United States and Internationally. SCS employees focus on finding little-known products and ideas; continually tweaking and improving them until they are marketable. Current products include various toys, housewares, electronics, outdoor living and infant care items. SCS Direct is ranked #296 on the 2012 Inc. 500 List of America's Fastest Growing Companies. For more information about SCS Direct's unique line of products, call 203.870.4867 or visit http://www.scsdirectinc.com.