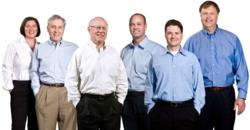 We are honored to showcase attorneys who exemplify excellence in the practice of law.
Seattle, WA (PRWEB) June 25, 2013
Seattle's Brett Murphy Law Firm is pleased to announce that three of its attorneys have been chosen to the Super Lawyers Magazine annual list of top attorneys in Washington State. Attorneys Dean Brett, John Murphy, and David Brown were all selected to the 2013 Super Lawyers listing based upon their reputation in the legal community, evaluation of their performance by an independent group of legal researchers, and by the recommendation of a peer evaluation group.
The Super Lawyer Program was created in 1991 as a way to establish a credible, objective and comprehensive listing of outstanding attorneys, to be used as a resource by both attorneys and those seeking legal counsel. The program relies on a rigorous multi-phase selection process that includes a statewide survey of lawyers, independent evaluation of candidates by Super Lawyers' attorney-led research staff, a peer review of candidates by practice area, and a good-standing and disciplinary check.
Attorney Dean Brett has been chosen to the Super Lawyers listing each year since 2003. Dean has been in practice since 1972, and currently focuses his energy on major personal injury and wrongful death claims. In addition to his designation to the Super Lawyers listing, Dean has the top ranking possible from Martindale-Hubbell, the respected legal ranking service that provides both peer and client reviews of all attorneys.
Dean was recently interviewed by Super Lawyers Magazine, and when asked what he thinks is the most important role that a lawyer plays, he replied:
"I try to be a trusted confidant, the one person with whom a client can share his hopes, his dreams… Before I try to help a client decide where he wants to go and how he is going to get there, I must first understand where he is now… Only through listening can I establish the trust and confidence that is the foundation of every solid relationship."
Attorney John Murphy has been chosen to the Super Lawyers list since 2012, but has been practicing law since 1975. John initially built his reputation as a business and criminal defense attorney, yet he now focuses solely on major personal injury and wrongful death law. Dean and John created the Brett Murphy Law Firm after going head to head in court a few times, and realizing they would rather be on the same side of the courtroom.
Attorney David Brown was selected to the Super Lawyers' Rising Star listing which focuses on exceptional attorneys under the age of 40 and those who have been in practice fewer than 10 years. After David graduated with his law degree from Colorado University School of Law, he gained valuable experience as a public defender before joining Brett Murphy to focus on personal injury and wrongful death law.
The list of Washington Super Lawyers and Rising Stars is designed to assist people who need legal assistance by providing an objective, accurate, and meaningful measure of an attorney's quality and trustworthiness. Learn more about the Super Lawyers Program by visiting http://www.superlawyers.com/about/.