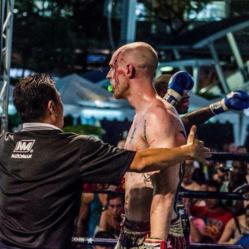 "I'm blessed to have such a supportive family and team. Now it's time to get back on the grind and work to get the next W."

- Peter Petties, Crazy 88 Fighter
Elkridge, MD (PRWEB) June 26, 2013
This past week Crazy 88 team member and coach, Peter Petties, started training in Thailand at the world-renowned Muay Thai kickboxing academy, Sitsongpeenong Gym. Coach Pete is an aspiring Mixed Martial Arts Fighter and wanted to hone his striking skills. With the support of Crazy 88 head coach Julius Park, Pete set out to Thailand to do just that.
Within a week of arriving in Thailand, Pete gained the respect of the professional fight team and coaching staff through his hard work and toughness. Petties stated, "It's hard for foreigners to get the respect of the fighters and coaches here because they look at us as tourists. For them this is their life. Many of the guys on the team here have been doing this since grade school age and they have high standards. That means I have to bust my tail to get in with the real deal guys here."
One of Coach Pete's goals heading into Thailand was to get a full-contact Muay Thai fight. To Peter's surprise he was able to get on a fight card for the MBK Fight Night organization. His opponent in this bout was Matthew Kaewsamrit, a former member at Crazy 88, who had been training in Thailand for over a year.
Pete was well aware of the challenge ahead of him being he had been in the country less than 10 days and was set to fight an experienced Muay Thai fighter. Pete said, "I knew coming into this fight that I had a huge task ahead of me. Matt is a tough fighter, but I train with tough guys all the time. Most of them are bigger, stronger, faster, and way more experienced. All I thought about before the match was what I needed to do to win."
From the start of the fight Pete used his superior speed and boxing skills to keep Matt Kaewsamrit at bay. As the fight wore on, Pete became more aggressive throwing a high quantity of punches and controlling the clinch. Towards the end of the fight, Coach Pete put an exclamation point on a dominating performance by opening a cut on his opponent's left eye. Petties went on to win by unanimous decision and start his Kickboxing career undefeated.
Peter reflected on his success in Thailand so far, and had this to say, "It feels great to come out here and get the job done. I'm blessed to have such a supportive family and team. Now it's time to get back on the grind and work to get the next W."
Crazy 88 Brazilian Jiu-Jitsu is located in Elkridge, MD and is open 7 days a week. For more information visit http://www.Crazy88BJJ.com or call them at 443-283-1450