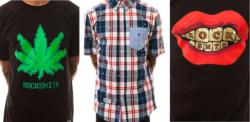 Boston, MA (PRWEB) June 25, 2013
Karmaloop, the leading online retailer for urban fashion, today announced the arrival of the Summer 2013 looks for men from RockSmith, the Tokyo-born, Brooklyn-based brand that combines Japanese and American styles into a unique streetwear brand.
"RockSmith clothing has been tearing up the hip hop scene for more than 10 years now," said Karmaloop president and founder Greg Selkoe. "The label counts some heavyweights in the industry among its fans – Jay-Z, Diddy, Wiz Khalifa and Curren$y, to name a few, which is why it's often called 'your favorite rapper's favorite brand.' We're excited to offer the latest from this popular label. These RockSmith looks are pretty hot – and pretty minimal – to keep you in comfort and in style for summer 2013."
The RockSmith Summer 2013 collection includes all the lightweight essentials, from graphic tees to tank tops to board shorts and hats. RockSmith's summer colors have more pop and include pastels, teal and salmon. "You wear less in the summer as the temperature goes up, but with RockSmith you know that what you're wearing will still set the bar high for summer fashion," said Selkoe.
Among the summer pieces from RockSmith you'll find at Karmaloop.com are graphic tees like The RockSmith Ninja Stars Tee in Teal, Black or Red – a crewneck cotton tee with a touch of ninja style, featuring a contrast throwing star print around the neckline. There's also The RockSmith Gold Smith Tee in Purple or Black, featuring a grill graphic on the front. Also in the ninja theme is the Ninja Script Baseball Jersey in Teal, Red or Black – an athletic jersey style shirt with a Ninja graphic written in script on the front. In tanks are The RockSmith Platinum Script Tank in Black, featuring a 90's rock-n-roll style RockSmith logo on the front and an Explicit Content patch. Or the Explicit Tank in Red or Olive Camo, with a graphic front and back that reads "Parental Advisory Explicit Content."
Visit Karmaloop.com to see all pieces from the RockSmith summer collection available at Karmaloop.
About Karmaloop.com
Karmaloop.com is the leading online retailer for global urban fashion and streetwear, with more than $130 million in annual sales. Retailing every major streetwear brand -- from Obey and Crooks and Castles to Jeffrey Campbell and UNIF -- Karmaloop receives more than 4.5 million unique visitors from 40 countries each month, and retails more than 500 brands designed for the "Verge Culture" -- a multicultural demographic that is 18 to 34 years-old and often referred to as the first generation that grew up with the Internet. Founded in 2000, the Karmaloop family of websites today includes the internet television station KarmaloopTV, the women's fashion site MissKL, the menswear boutique Boylston Trading Company, the flash-sale site PLNDR, the online skateboard retailer Brick Harbor, and the independent marketplace Kazbah.