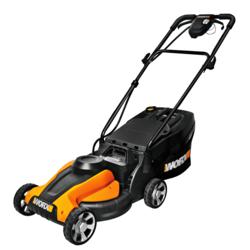 Strategic placement of air flow fins on the mower's cutting deck helps boost cutting efficiency.
Charlotte, N.C. (PRWEB) June 25, 2013
The deck of the WORX 14 in. mower is engineered to improve efficiency 40 percent over its predecessor. This has been accomplished by strategic placement of air flow fins on the cutting deck to create greater grass lift, which helps the mower cut grass more efficiently. Equipped with a mulching blade, the 3-in-1 mower deck provides the options of mulching, bagging or discharging grass clippings.
At 33 lbs., the WORX 14 in. mower weighs only half as much as a conventional, gas-powered mower. The compact mower is easy to maneuver and reaches into tight spaces where larger yard machines can't go. Its comfort-padded handle is fully collapsible for quick space-saving storage.
The battery-operated lawn mower has no pull-cord, gas tank to fill or oil to check. There's also no extension cord tethering the operator to an electrical outlet. The mower starts instantly every time with the pull of a lever on either the right or left side of the handle.
The mower is powered by a 24-volt, lead-acid battery that lifts out for charging and storage. The battery features a charge level indicator, which is actuated by pressing a red indicator pad.
To charge the battery, it is simply lifted from the mower deck, connected to the charger and plugged into a power outlet. The charger signals "green" when the battery is fully charged, which typically takes 4 to 5 hours. With a full battery charge, the mower can cut up to 6,000 sq. ft. of lawn.
The cordless mower features three height-of-cut adjustments, including 1.8 in., 2.6 in. and 3.3 in. positions. It also has a grass bag level indicator that alerts the operator when the bag is full. The mower's wheels are rubberized for easy rolling over the terrain.
One battery and charger, mulch insert, rear -discharge chute and 0.85-bushell grass bag are included as standard equipment.
WORX cordless mowers feature 75 percent noise reduction when compared to most gas powered lawn equipment. They also have zero emissions, making them a greener and cleaner solution for the environment.
The WORX 14 in., 24V Mower (WG775, $229.99) is available at http://www.worx.com.
Other WORX mowers include the WORX 14 in., 24V Mower with IntelliCut (WG782, $249.99); 17 in., 24V Mower (WG787, $349.99); 19 in., 36V Mower (WG788, $429.99) and 19 in., 36V Mower (WG789, $499.99). These models are available at http://www.worx.com and retailers including Lowe's, Menard's and Amazon.com.