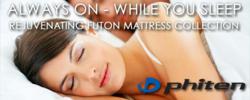 With The Phiten performance mattress I am rested and my body is healing faster than it would on a traditional mattress
San Francisco, California (PRWEB) June 25, 2013
Too many restless nights will drive anyone to madness. Changes can be made to fix the problem, like diet or exercise routine, but what about products to buy that can make an immediate impact? There are plenty of opinions about how to sleep better, and most of them are probably right for someone, but it's hard to know which ones are right for each individual with all the variables in the mix.
Sean O'Connell, a professional DJ for 95.7 the Drive in San Francisco, California, and is also a mixed martial arts fighter in training, shared his experience with the Phiten Essence Futon Performance Mattress. He selected this mattress because it was the best mattress for his back and sleeping style. Being an MMA athlete, he was the perfect applicant to test the rejuvenating capacities of the renowned Phiten AQUA TITANIUM which is infused into the fabric of this mattress.
After a few days of MMA Training and sleeping on the mattress, this is what he had to say.
"It's crazy to think that I am saying that a mattress will help me in my MMA career, but when you talk to any Athlete, it's about staying healthy and being able to train at the highest level possible. I engage in high level MMA workouts and obviously that can cause some wear and tear on the body. For me, the biggest thing is that the recovery happens overnight. The recovery happens as quickly as possible and that's the biggest difference with the Phiten Performance mattress. With The Phiten performance mattress, I am rested and my body is healing faster than it would on a traditional mattress."
Sean O'Connell gives his honest testimonial of the Phiten Essence Futon Mattress as the best mattress for his back. After a long day, rest the back and rejuvenate on a Phiten Performance Mattress at The Futon Shop.