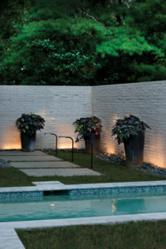 Kichler's new line of landscape lighting utilizes an optics design unlike anything I have ever seen before
Dallas, TX (PRWEB) June 25, 2013
In recent years, the excitement around the Market new product releases almost entirely surrounds major innovations in energy efficient and long lasting lighting. Major companies such as Kichler Lighting, based in Cleveland, Ohio, used the Dallas Market as a platform to showcase an incredibly innovative line of LED landscape lighting that certainly had some of the leading industry professionals very excited.
"Kichler's new line of landscape lighting utilizes an optics design unlike anything I have ever seen before," said David Littman of Littman Bros Lighting. "It's incredible. Their new Radiax Optics enables the fixtures to produce significantly more luminous output while consuming very little wattage."
In past years, the buzz around LED lighting at Dallas Market was purely about energy efficiency and longevity. With some recent technological advances, the efficiency and longevity are not only improving; the quality and color of the light has dramatically improved as well. This was more evident than ever while watching the demonstration of in-ground and accent flood lights.
"The quality of the light has improved dramatically" said David Littman. "The conversation has really changed in the last year. Everyone was used to asking the questions 'how long does it last' and 'how bright is it.' Now major LED manufacturers are focusing on how the light makes us feel and the type of environment we want to create," he said.
Kichler is doing just this with their new line of Radiax Landscape Lights; they are available in both 12v and 120v with optional lenses and covers that enable the consumer to create a completely unique environment at their home or business.
Another great company based in Ohio came to the Market with some incredibly crafted landscape lights as well. Hinkley Lighting, based in Avon Lake, Ohio, has been and continues to lead the industry in landscape lighting. The Nexus Collection truly has paved the way in design for functional and aesthetically sound path lights. The slim profile and sharp design have made it a wildly popular product on a national level. In addition to the Nexus Path Lights, Hinkley has released a Nexus Style line of LED lights that serve an under-counter function. This low profile design is great for accenting garden rock structures and railings.
"In recent years, the Hinkley Landscape Lighting catalogue has been a great tool for my showroom" said Benson Littman, founder of Littman Bro Lighting. "When a customer comes into our showroom for landscape lighting, it is the first thing I grab because Hinkley's broad line of exterior lighting solutions has something to satisfy any style or functional need."